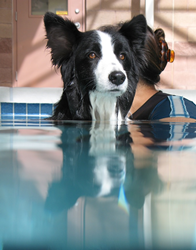 Jacksonville, FL (PRWEB) June 10, 2015
Pet Paradise, an upscale pet boarding and day camp resort, has recently acquired Enchantment Pet Resort & Spa, located in the greater Albuquerque area. Pet owners will now have the opportunity for their pets to experience vacation in paradise.
Pet Paradise's 22nd resort will feature similar accommodations and amenities as the other Pet Paradise locations and will be operated under the same high level standards that the company has established. Pet Paradise will be open seven days a week with convenient pickup and drop off hours, including early weekend hours (by appointment only).
"As the leader in innovative pet care in New Mexico for the past 12 years, we are excited to have Pet Paradise take over Enchantment Pet Resort's operations. We share similar philosophies and services. I am confident customers and their pets will continue to receive exceptional care and services at Pet Paradise Rio Rancho," said Crystal McClernon, owner of Enchantment Pet Resort & Spa.
One of the highlights at Pet Paradise is the playtimes, where guests get to interact with others in a large scale outdoor courtyard. Playtime consists of running, playing, swimming and constant interaction with the playtime coordinator. This unique location is the first of 22 Pet Paradise resorts to feature three swimming pools in one resort. Other upgrades include additional playtimes and exercise, interactive games, storytime, a daily communication package, a GoPro video experience, doggie ice cream, go home baths and spa treatments. Pet Paradise will offer cat boarding. The kitty condos are away from the dog area and each guest has their own multi-level condo in a peaceful and private environment. Professional grooming services are available to clients whether your pet decides to stay with Pet Paradise or not.
In addition to pet boarding, day camp and grooming services, Pet Paradise is very active in the local communities throughout the U.S. by partnering with animal rescue groups for their annual pet food drive and Wacky Wednesdays, as well as sponsoring and supporting events. Pet Paradise plans to be the annual sponsor of Bark in the Park 2015. With their new acquisition, Pet Paradise plans to continue a corporate partnership with Bro & Tracy Animal Welfare organization and Meals on Wheels, and remain a supporter of the Animal Humane of New Mexico, READ programs and the O.S.C.A.R. Foundation. Pet Paradise is proud to go beyond a pet boarding company and is committed to expanding their community support in the greater Albuquerque area.
Pet Paradise was founded in 2002 and currently operates 22 locations across seven states. Pet Paradise is committed to providing a safe, clean and fun environment for your pet. Pet Paradise Rio Rancho is located at: 580 Quantum Road NE, Rio Rancho, NM 87124. For more information, please visit http://www.petparadise.com
About Pet Paradise: Headquartered in Jacksonville, Fla., with more than 400 employees, Pet Paradise was formed in 2002 and currently has 22 facilities in operation of which 10 are located throughout Florida; three are in Houston, three in the north Dallas area, two in North Carolina, and one each in New Orleans, Atlanta, Albuquerque and Phoenix. At Pet Paradise our mission is to create a safe, clean and fun environment for our four-legged guests. The Pet Paradise facilities include spacious dog and cat boarding suites as well as day camp and grooming services. For more information about each resort, visit http://www.petparadise.com or visit our social media sites: Facebook, Instagram, Twitter, Vimeo and Pinterest.