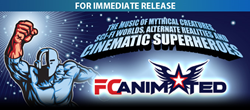 Whether a project needs an adrenaline jolt of musical energy, an over-the-top heroic theme or a creepy sonic environment, this collection serves as a one-stop solution.
Dallas, Texas (PRWEB) June 10, 2015
Blockbusters and science fiction productions have long looked to comic books and graphic novels as source material. In 2014, movie-goers enjoyed their favorites storylines in cinematic form with comics that have inspired big budget films such as Marvel's Captain America: The Winter Soldier; The Amazing Spider-Man 2; Godzilla; X-Men: Days of Future Past; Transformers: Age of Extinction; among others with releases of Ant-Man and Fantastic Four scheduled to hit screens in 2015.
As the world of comic books populates the big screen and other formats, there becomes more to its storytelling than compelling heroes, storylines and graphics – it's the sound that creates the perfect mood for a character's heroic action, a villain's lair, or for an epic battle scene.
With a mind toward serving this need in the production community, FirstCom Music, the Dallas-based global leader music solutions company, has unveiled a first of its kind music licensing catalog, dubbed FCAnimated, designed to provide sonic scoring tools for editors and producers of comic book movies, online graphic novels, video games, sci-fi productions, digital media, animation, and graphic arts.
Upon unveiling FCAnimated, Ken Nelson, FirstCom Senior Vice President and Executive Producer commented: "With this collection, we set out to provide a unique solution for the production community. FCAnimated is the soundtrack for modern myths and fantastic adventures. This is the music of cinematic superheroes, mythical creatures, and sci-fi worlds, all of which are texturally described in sets of cues designed to work together to support plot devices, segments and storytelling. Whether a project needs an adrenaline jolt of musical energy, an over-the-top heroic theme or a creepy sonic environment, this collection serves as a one-stop solution."
Liam Sharp, Creator, Artist and Author of the popular Madefire Motion Books, is a world-renowned artist and writer who has illustrated many of the greatest characters in the comic industry – Alien, Batman, Superman, Hulk, X-Men, Spider-Man and Spawn, to name a few. Sharp offers his experience incorporating sound with Madefire titles: "We didn't add sound to the first motion book until about a month before we launched - and it changed everything! It was night and day! Sound, it turns out, is as much a part of any story as what you see visually. It sets tempo, establishes urgency, or calm, or a laconic pace. It can induce fear, building a sense of dread. It can suggest humor, or longing. Sound can also heighten your sense of place - suggesting cavernous gorges, or the intense bustle of a future City. Hard to believe, now, that we almost missed the opportunity to add such richness to our titles!"
For FCAnimated, FirstCom tapped composer and sound designer Wendell Yuponce, well-known for his work on Madefire Motion Books. Yuponce has earned a following as an audio expert bringing to life the pages of motion books and graphic novels. Yuponce is also a successful composer for TV, commercials and films, and his credits include "Curb Your Enthusiasm" (HBO); "Minor Adjustments" (NBC); "History of the Joke" featuring Lewis Black (History Channel), amongst many others.
In FCAnimated, Yuponce delivered a collection that features an editor-friendly thematic layout. Interconnected, key, tempo related cues, drones, risers, themes and transitions can be used alone or easily mixed and sequenced to create dramatic soundtracks for action-adventure, animation or family friendly projects.
"These are the user-friendly sounds that editors and producers need for effectively blending musical cues and elements in a fast and effective way to tell their story with impact and vision," commented Ken Nelson.
FCAnimated was released as an initial series in 5 volumes this month: Singularity (dark, high drama sci-fi and fantasy, dramatic underscore); Dragons, Fairies and Witches (adventure, animation, magic and fantasy, family adventures); Regions of Darkness (terror, horror, suspense, and the forces of darkness); Retro Creature Features (Saturday morning retro TV, comedy horror and 8-bit goodness); and Gods and Heroes (heroic, larger-than-life action adventure, classic super heroes). FirstCom plans a further two releases for July and September 2015 with updates in subsequent years.
FirstCom Music prides itself for its creative solutions for music supervisors. FCAnimated is its latest example of being additive to the licensing process and meeting the needs of the licensing community.
FirstCom Music libraries are distributed throughout the world. The company offers 30 music libraries with over 190,000 tracks and produces over 7,000 new tracks of music a year. FirstCom Music is known industry-wide as the strongest, easiest to use, highest quality, professional production music available. Composed and written by the best, performed by the best, mixed by the best, and serviced by the best.
About FirstCom Music
FirstCom Music, a leading production music services provider for over 35 years, offers the most comprehensive music solutions worldwide. With more than 190,000 tracks, FirstCom Music is dedicated to providing high-quality, easy-to-license music to the production community.
Founded in 1980, FirstCom Music was the first to release production music libraries on compact disc. Today, FirstCom Music produces and markets music services for television, radio, and multimedia uses in the U.S. and abroad. FirstCom Music is headquartered in Dallas, Texas with offices in Los Angeles.