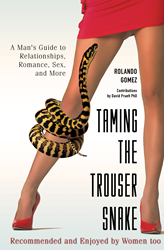 Smart women will give this to the men in their lives — Heather Carden
Kokomo, IN (PRWEB) June 16, 2015
Professional photographer and author Rolando Gomez, author of five photography books and one social media book, releases his first mainstream book, "Taming The Trouser Snake--A Man's Guide to Relationships, Romance, Sex, and More."
The book is based on over 40 years of personal observations and experiences from his photography of women. During that time, Gomez has photographed thousands of women and raised four daughters.
"I was careful when I wrote this book, to make sure that women would enjoy reading it too," explains Gomez. "By virtue of my profession, I've experienced life with many more women, much more intimately than the average man. I've photographed Playboy Playmates, American Idol stars; women who are young, mature, tall, thin, short, heavy, blonde, brunette, small chested, large breasted, blue eyes to brown.
"I've experienced what seems like every woman in every form for decades, and the richest part of these experiences and observations was listening to them talk about the men in their lives. They taught me what they want and don't want in men, what their knight in shining armor should possess, and I share this valuable information plus much more with you in this book. I felt the 'story' must be told."
Gomez shares his knowledge as a man who's constantly exposed to new female generations by virtue of his profession. It's like he's been stuck in a world where women never age but their mentality constantly evolves. These lifetime experiences are the heart of this book along with research and editing from close friend David Pruett, PhD.
"Taming The Trouser Snake--A Man's Guide to Relationships, Romance, Sex, and More." Is made for men to learn, but written for women to recommend and for both sexes to enjoy. Whether you're an old or young "guy," you'll learn what women look for when it comes to sex, fitness, fashion, intimacy, romance, relationships, love, plus much more. Written for men that care and want to win, or keep a woman's heart for the right reasons — as friends, colleagues, mutual lovers or even as a potential spouse. It's not a con game; you'll learn what's "in" for your woman of today.
"Smart women will give this to the men in their lives," states Heather Carden, a beauty blogger, licensed cosmetologist, mommy, and the pro model muse of Gomez that is featured on both covers.
"Taming The Trouser Snake — A Man's Guide to Relationships, Romance, Sex and More"
Published by Americano Dream, LLC
Written by Rolando Gomez with contributions by David Pruett, PhD
Softcover | 6 x 9 in | 254 pages | ISBN-13: 978-1512383195
ISBN-10: 1512383198
E-Book | 193 pages | ASIN: B00YDUHVGE
AudioBook in Production
Available at Amazon.com and soon other retailers
About the Author
Rolando Gomez photographed thousands of women for almost 40 years, including Playboy Playmates to American Idol Stars; carrying his cameras to 43 countries. In the past 15 years, he's conducted over 600 seminars and workshops on glamour, beauty, fashion and nude photography in the U.S., Europe, Mexico, Caribbean, Central America, and Canada. He holds a Bachelors of Arts in Communication, summa cum laude, from the University of Texas, San Antonio, plus is trained as a State of Texas Mediator in Conflict Resolution. He's authored seven books, co-authored one, and is featured in four, including one by Marsha Collier. His fifth book, "Photographic Therapy—The Power of Photography to Help Build or Rebuild Self-Esteem" is available on iTunes, for a limited time, for free. His verified Twitter and Instagram accounts are @rolandogomez.
About the Publisher
Americano Dream LLC is an independent publisher that focuses on the fine-art love story of Rolando Gomez and his muse Heather Carden on AmericanoDream.com. Their products include blogs, books, and fine-art photography and prints. Follow Americano Dream on Twitter, @americanodream