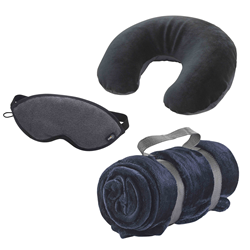 "We're always looking to give travelers even more options to choose from," said Bob Giacolo, Senior Product Development Manager.
(PRWEB) June 11, 2015
Adding to their extensive line of comfort accessories for travelers, LCI Brands™ has released a new neck pillow, eye mask, and blanket under the Lewis N. Clark® brand.
The Dual Comfort Microbead Pillow is unique in that one side consists of fleece and the other of spandex, offering the ability to cool or warm. This makes it perfect for airplanes and cars, which often fluctuate in temperature. The microbead filling also allows the wearer to truly customize its shape for maximum comfort.
Made of soft corduroy and cotton padding, the Corduroy Eye Mask promotes rest and relaxation by helping to decrease ambient light. The elastic straps are also easily adjustable. Although designed with travelers in mind, this mask is ideal for the everyday as well.
The Plush Travel Blanket is super soft to the touch and provides plenty of warmth. Available in both burgundy and blue, it can be rolled up compactly so it takes up mimimal space. This compact shape is held together by straps that can also be used to attach to luggage handles.
All three items are available immediately
About LCI Brands
LCI Brands (formerly known as L.C. Industries, Inc.) is located just outside Chicago and is home to brands such as Lewis N. Clark®, Belle Hop®, and UrbanGear™. With the luggage caddy as its core offering, LCI Brands began operations in 1971, and since then has expanded to offer hundreds of products in categories such as security, comfort, organization, and health. For more information, visit http://www.lcibrands.com.