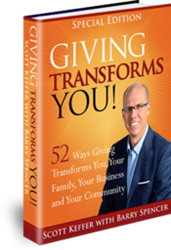 All attendees will receive a free copy of one of Barry H Spencer's latest books.
Alpharetta, GA (PRWEB) June 09, 2015
On Thursday, June 11 at The Country Club of the South, Rainbow Village begins the first in a series of seminars to educate their supporters, investors and friends about the opportunities for giving more to the charities of their choice, like Rainbow Village and the Nancy R Yancey Legacy Society, without leaving less to their family. The events are in partnership with the Donor Motivation Program®, an international program entering its 20th year.
This is a timely program as Rainbow Village prepares to complete its village and celebrate 25 years of service to homeless families with children. This program represents their commitment in the community and beyond to fulfill their mission of breaking the cycles of homelessness, poverty, and domestic violence for many generations to come.
The Donor Motivation Program® presentation simply titled Estate Tax Elimination and Income Tax Reduction, has been viewed by more than 100,000 donors and hosted by charities all across the United States and Canada educating donors about their tax savings and charitable giving opportunities.
The program provides the supporters, investors and friends of Rainbow Village the unique opportunity to be educated about tax saving opportunities available today without making an "ask" of the attendees or being pressured to make any kind of gift decision at the event.
This series of events by the Donor Motivation Program® is a way for Rainbow Village to say thank you to its generous supporters, investors, partners and friends in the community.
Attendees of each event will also hear about major challenges and obstacles that donors face today which include the fear of running out of money, rising taxes, increasing healthcare costs and more.
The Donor Motivation Program® is unique in its presentation to talking about tax savings opportunities available by demonstrating a strategic approach to tax, retirement and charitable planning. It also shows attendees how to use a three-dimensional approach to money as the key to being able to "redirect" tax dollars to charity while also benefiting family.
The featured speaker will be nationally recognized Financial Educator and Charitable Wealth Planning Specialist, Barry H Spencer. He will share his knowledge of ways that you can leave a lasting legacy to charity without leaving less to family.
Spencer's presentation is rich with usable information, real world examples, a compelling case study and even his own personal story. In fact, it is his personal experience with a failed wealth transfer in his own family that resulted in the driving motivation to share about tax saving and legacy giving concepts in clear and compelling way that benefits attendees.
In addition to the informative presentation, the evening will include appetizers and light dinner after the presentation so that attendees can ask questions of the presenter as well as interact with staff and board members of Rainbow Village.
For more information about the event or to learn more about Rainbow Village or the Nancy R. Yancey Legacy Society, contact Karen LaFontaine, Development Director of Rainbow Village, at klafontaine(at)rainbowvillage(dot)org or call 770-497-1888.
The mission of Rainbow Village is to transform the lives of homeless families with children of North Metro Atlanta through a community based transitional housing program that promotes self-sufficiency. To learn more, visit us at http://www.rainbowvillage.org.