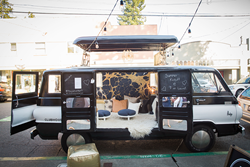 San Francisco, CA (PRWEB) June 09, 2015
Online e-design site Decorist is delighted to announce that San Francisco Bay Area interior designer Elena Calabrese of Elena Calabrese Design & Decor has been selected as the latest Decorist Elite Designer. Known for her boho-chic influences, passion for natural materials, and modern Californian spaces, Elena's signature style is now available to fans virtually at a flat rate.
As an Elite Designer, Decorist users can receive a makeover from Elena with a simple click. An e-design service where users can choose from a group of highly talented designers at a flat fee, Decorist is an easy and affordable way to work with established interior designers completely virtually. With Decorist, Elena can transform a room into a modern bohemian paradise with handpicked finds tailored to clients' style and budget, custom design boards, written recommendations and a simple clickable shopping list. For a limited time, users will recieve $20 off a Decorist makeover by Elena using promo code elena20.
In honor of her new title as an Elite Designer, Elena curated a stunning boho-inspired vintage Dodge caravan to showcase her style. Collaborating with Decorist and Mill Valley lifestyle boutique 7 on Locust, whom Elena shares a studio space with, the designer selected a collection of vintage and new furnishings and accessories. On June 30, Elena will create another summer caravan event with 7 on Locust for Gypset founder Julia Chaplin's capsule collection and book signing.
With her fresh take on interiors, Elena is a Decorist Elite Designer not to miss. For more information on her work, please visit http://www.decorist.com/designers/51958/elena-calabrese/.
About Decorist
Decorist provides personalized online decorating advice from free product recommendations and Ask A Designer for help, to paid room makeovers by the world's best designers, from Classic to Celebrity starting at $199 flat rate. Decorist has helped thousands of customers across the country transform their home, in their style and budget. For more information, please visit http://www.decorist.com.
About Elena Calabrese
Elena Calabrese earned a BFA, from the California College of the Arts, and studied Interior Design at the University of California at Berkeley. After a decade in the fashion industry, working for DKNY in New York City, and designing accessories for large companies in the Bay Area, Elena made the inevitable switch to interior design in 2007, establishing Elena Calabrese Design & Decor. At her San Francisco Bay Area-based firm, Elena creates modern interiors designed to nurture, inspire, and reflect a unique California point of view.