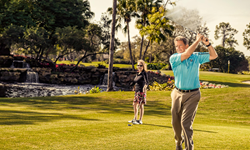 The renovations to the Creek and Quail Courses took good golf courses designed by Arthur Hills and beautified and modernized them."
Naples, Florida (PRWEB) June 11, 2015
Quail Creek Country Club is pleased to announce the completion of their Clubwide multi-million dollar renovation project. The club started renovations in June 2013, focusing on both golf course upgrades, expansion of the Club's Greenside Grille, two new bocce courts and a new sports lounge.
Mike Dero, director of golf, stated "The renovations to the Creek and Quail Courses took good golf courses designed by Arthur Hills and beautified and modernized them." Mr. Hills was on site to approve the changes, but the inspiration came from Kevin F. Leo, golf course superintendent. "Kevin took his 25 years of experience as a golf course builder and tweaked every bunker, tee box and green complex that could be improved," stated Mr. Dero. This resulted in 36 holes that are more eye appealing and more playable. Textures and colors were added in front of a majority of tee boxes, framing the hole for the expert and novice golfer alike. The result is terrific turf condition from tee to green framed by sand, pine straw and foliage that just perfectly enhance the feel for each hole.
The renovated and expanded Greenside Grille includes an innovative indoor/outdoor design, featuring a 12-foot fire pit, peninsula bar and maximized causal seating for large and small groups. This new space provides members with a casual area to socialize and enjoy the Club's personalized brew, Quail Ale.
The renovation was completed in three phases:
Phase one renovations of Creek Course included:

A completely updated irrigation systems, with state-of-the art, Toro sprinkler heads;
New Celebration grass for tees, rough and fairways;
TifEagle Bermuda grass for greens;
An increase in playable, native areas through the Course to reduce the amount of water, fertilizer and maintenance required;
Greens restored to their original sizes; and
Bunkers restored to their original sizes.
Phase two, which mirrored phase one, was a complete renovation to the 18-hole Quail Course.
Phase three included the addition of a sports lounge adjacent to the tennis pro shop and two bocce courts.
"The completion of renovations has created a 'Best in Class' experience for members and re-established a base for continued growth in a very competitive country club market," said Robert P. Magrann, president of the club's board of directors. "We are especially pleased with the progress and potential."
Financing for the two-year project was provided by Stonegate Bank of Naples, Fla.
About Quail Creek Country Club
Quail Creek Country Club is the premier, private, member-owned country club in Naples, Fla. Featuring two Arthur Hills-designed golf courses, a comprehensive tennis program, beautiful fitness and spa facilities, fine dining in the gracious clubhouse and a bustling social program, Quail Creek Country Club delivers the true country club experience. Membership is open to individuals who reside both inside and outside of the community. In fact, 70 percent of members do not live on campus. Quail Creek Country Club sets a new standard for the country club lifestyle. Learn more at http://www.quailcreekcc.com.