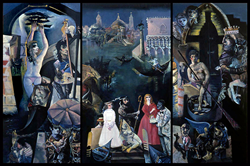 New York, New York (PRWEB) June 10, 2015
The Edward E. and Madeleine J. Boccia Trust, St. Louis is delighted to announce the inclusion of the artist Edward E. Boccia's work in the exhibition The Ghost Army of World War II, The Salmagundi Club Gallery, New York, New York June 14, 2015 - June 25, 2015.
This groundbreaking exhibit tells the story of the American Ghost Army, kept secret for five decades. Credited with saving many lives, the 1,100 men unit included a select group of art students, illustrators and other creative fields, Boccia among this special 603rd Engineer Combat Battalion. Highly classified work involved visual subterfuge used on the battlefield such as inflatable tanks; sound effects and other tricks intended to give an impression of great military strength.
Today Boccia is best known for his monumental multi-panel paintings produced between 1956-2006 such as Mystique Marriage, (1979) distinguished by an admixture of Expressionist sensibility, religious subject matter, and a sophisticated phosphorus use of color. Boccia represents the legacy not only of Expressionism in America, but also the long-standing tradition of mural painting and postwar figuration as well as the contribution of Italian-Americans to the arts in the twentieth century.
The artist served as professor of art at Washington University, St. Louis for over 30 years and is the subject of recent art historical research that has uncovered new and unknown artwork, to be featured in two academic journals, Forma Revista d'Humanitats. Universitat Pompeu Fabra, Barcelona, Spain and Ekphrasis Journal. Babeș-Bolyai University, Cluj, Romania.
Born to Italian parents in 1921 in Newark, New Jersey, Boccia attended the Art Students League, New York and continued at the celebrated Pratt Institute in New York on scholarship, after the war he earned his BSc and MA, Columbia University. He was a crucial force in the dissemination of the Bauhaus teaching method at the Columbus Art School where he served as Dean. Boccia was a favorite of the American philanthropist and art collector Morton "Buster" May, St. Louis who also is known for his significant collection of Max Beckmann and Expressionist art. In 1954, Boccia was recruited by Dean Ken Hudson, Washington University, following in the footsteps of other WU faculty such as Phillip Guston and Beckmann. The artist made over 1,300 works, many hidden away in his studio, some of which have only recently come to light.
Boccia's work can be found in 600 private collections worldwide as well as museum and university collections such as the Mildred Lane Kemper Museum, Washington University, St. Louis, St. Louis University Museum of Art, St. Louis University, The Museum of Art, Fort Lauderdale and the National Gallery, Athens, Greece among many others. In addition he received a number of prominent commissions for public spaces.
This unique show coincides with a number of important initiatives supported by the Trust including the 2013 solo exhibition St. Louis University Museum of Art and accompanying catalog as well as two recent publications on undiscovered artwork by the artist by scholar Rosa JH Berland, and the development of the first critical monograph on the artist as well as travelling exhibitions.
The exhibition is organized in coordination with Rick Beyer and Elizabeth Sayle's 2015 book The Ghost Army of World War II, Princeton Architectural Press, and the film The Ghost Army, PBS.
More information about the artist may be found at: http://www.edwardboccia.com