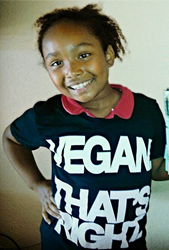 When businesses partner to support a public campaign like this, the result is a win-win for everyone who chooses to participate in the message. Kudos to our chef and the Gaslamp for being creative with this event. - Suzie Price, Long Beach Councilwoman
Long Beach, CA (PRWEB) June 18, 2015
Less than one month after the Long Beach City Council voted 7-2 to adopt a resolution in support of the "Meatless Mondays Campaign", Long Beach restaurant owner Michael Neufeld announced a Meatless Monday event at the Gaslamp Music. Bar. Kitchen, opening his restaurant doors on an evening when the venue is typically closed. On Monday, June 29, 2015 from 6:00 p.m. to 8:30 p.m., attendees will enjoy a variety of plant-based foods and information on the benefits of plant-based eating.
City council members on both sides of the recent vote on the Meatless Mondays Campaign are scheduled to appear together, along with Genesis Butler, the 8-year-old vegan advocate who spoke before the Long Beach City Council on May 19, to educate community members on the benefits of adding more plant-based options into their diets. Also scheduled to attend is Drew Alexis, General Counsel for Farm Sanctuary, a Long Beach resident who addressed the city council in support of a Meatless Monday initiative.
"Even before Meatless Monday was on the Council agenda, I was approached by a friend who is a vegan-trained chef," said Neufeld. "She wanted to co-host the event to introduce the health benefits of a plant-based lifestyle."
"I am very excited to see local businesses working to create menus focused on healthy eating options," said Councilwoman Suzie Price. "When businesses partner to support a public campaign like this, the result is a win-win for everyone; kudos to the chef and Gaslamp for being creative with this event."
The prix-fixe menu for the evening will be planned and prepared by vegan guest chef and food blogger, Sandra Sellani, of Forty-Year Old Vegan, a site that encourages people to go vegan in the second-half of life, and Sabali Mpozi, of My Vegan Comfort, both graduates of Matthew Kenney Culinary Academy, a school that specializes in vegan cuisine.
The event is also supported by Alexis who stated, "I am grateful to my Long Beach council member, Al Austin, for introducing a Meatless Monday proclamation to the City Council and to the Council for voting to issue the proclamation. It is my hope that the Long Beach community will see the value in supporting this proclamation, as it is one of a number of actions we can take to reduce our carbon footprint, conserve water and other precious natural resources, and promote optimal health. I am also grateful to the Gaslamp for embracing Meatless Monday and looking forward to visiting on June 29 to dine on some delicious plant-based meals!"
"I am here to support local businesses whether it's Meatless Monday or Meatball Monday, and believe they should be creative while City Council focuses on the nuts and bolts of building stronger communities," said Councilwoman Stacy Mungo who did not vote in favor of the initiative. "While I stand by my vote, I feel fortunate that my colleagues and I can disagree on the specifics but can still stand together on a united vision and on a bigger picture of what Long Beach is capable of achieving."
Tickets can be purchased at Event Brite and will cover the cost of food only. Drinks will be available at an additional cost. Seating is limited. The Gaslamp is located at 6251 East Pacific Coast Highway, Long Beach, CA 90803