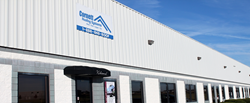 Our company's mission revolves around permanent Earth-friendly products
Louisville, KY (PRWEB) June 10, 2015
Cornett Roofing has recently disclosed its 2014 energy savings of a whopping $33,480. This number may awaken envy by most business owners that are on a lookout for ways to cut costs, but in this case it stand for a greater goal than profitability. Despite running a company in a competitive industry, Cornett Roofing was able to demonstrate what it means to grow while maintaining a responsibility to its community and the environment.
"Our company's mission revolves around permanent Earth-friendly products," says Chan Cornett, the company's founder. Since 2001, Cornett Roofing, alongside its sister company, Metal Pro Roofing, has been manufacturing and installing metal roofs with solar panels in homes throughout Kentucky and the surrounding states.
Metal is known as one of the most environmentally friendly roofing options available; however, during the recession, it was the one to take the strongest hit. The main reason for that is the initial cost of materials and installation. When engineers and architects look for ways to save on the construction project, the roof is one of the first places to get affected. It is not highly visible, being on top of the structure, therefore saving on it seems to be a logical choice.
What is frequently overlooked, however, is the cost over the lifetime. Metal Roofs installed by Cornett should last well over 50 years, in comparison to standard roofs which typically only last 10-12 year on average. Metal roofing offers substantial energy savings that standard shingle roofs do not. And when coupled with solar panels, they are a powerhouse of cost-saving sustainability.
"As the quality movement increases and the economy stabilizes, we are seeing a resurgence in interest in our products. With tax credits expiring, it is surprising however that most homeowners still don't realize how we can transform their homes. Metal simply doesn't look like metal anymore. Chances are you have seen our roofs and thought, 'that is a great wood shake or Spanish tile roof' without realizing it's our product because they look anything but traditional metal," adds Mr. Cornett.
With solar technology continuing to gain market share, metal is the preferred platform for solar systems, it is, in fact, the only roof system with a proven service life that outlasts the PV modules. Cornett plans to grow its Louisville solar roofing market share by 25% this year. The company has firmly embraced the "micro inverter" technology which allows them to monitor each individual panel, as well as the output itself. With that, the company is now able to see the system as a specific part of the whole. This is a major advancement in energy management.
Cornett Roofing alongside its sister company, Metal Pro Roofing have been manufacturing and installing innovative permanent roofs for the past 15 years. In addition to metal and solar, the company also offers slate, tile, and wood shake material & installation. The company currently operates in 4 states, Kentucky, Indiana, Illinois, and Ohio.
For more information on solar metal roofing please contact Cornett Roofing at (888) 848-ROOF or visit the website (click here). You can also follow Cornett Roofing on social media: on Facebook – Cornett Restorations LLC, on Twitter - @chancornet and on LinkedIn – Chan Cornett (President).