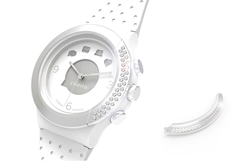 Seattle, WA (PRWEB) June 10, 2015
Cogito Fit by ConnecteDevice has announced a special Kickstarter glamour edition available now for a pre-order price of $99 (reg $149).
The Cogito Fit Élégance is a part of ConnecteDevice's commitment to bringing high-quality, desirable products to the consumer market, while making a smartphone connected watch a luxurious and beautiful accessory.
By popular demand during the current Kickstarter campaign, ConnecteDevice created a special edition for women. With its sumptuous twinkle, this limited edition displays 31 high-class Cubic Zirconia - used by top fashion industry brands - making it one of the most exclusive products in the Cogito range.
The new Cogito Fit Élégance is an ideal accessory for any occasion.
Doubling as a fitness tracker, this chic and sophisticated smartwatch seamlessly connects to iOS and Android smartphones. Receive essential notifications -- visible at a glance -- and never worry about recharging the watch.
Cogito Fit effortlessly balances a fashionable traditional timepiece, with smart technology.
Cogito Fit Élégance is now available for pre-order through the Kickstarter website for only $99 (reg $149), during the campaign and will ship in end July - August.
For additional information, please visit cogitowatch.com or contact chelsea(at)chicblvd(dot)com
Contact:
ChicExecs PR
http://www.chicexecs.com
1487 Poinsettia Ave. Ste. 125
Vista, CA 92081
310.569.6586
ChicExecs PR is an "out of the box" PR company which represents over 70 clients. ChicExecs has created an innovative approach to PR dedicated to helping small-medium businesses receive media coverage. Our revolutionary automated system is changing the face of PR. To learn more about ChicExecs visit http://www.chicexecs.com.
If you would rather not receive future communications from Chicblvd Inc, let us know by clicking here.
Chicblvd Inc, 1487 poinsettia ave #125, Vista, CA 92081 United States