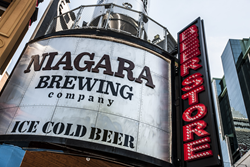 Niagara Falls, ON (PRWEB) June 10, 2015
The new Niagara Brewing Company in Niagara Falls offers a variety of craft beers that are produced and canned in-house using locally sourced ingredients from the Niagara Region, and serves four main beers on tap alongside a changing variety of seasonal and weekly brews.
Guests can experience Niagara Brewing Company's four main beers – Beerdevil IPA, Amber Eh! Ale, Niagara Premium Lager and Honeymoon Peach Radler – in the brewery's upper or lower-level bar and seating areas, and also take the craft beer home in cans and growlers, which are available for carry-out.
The brewery also offers a Niagara-inspired tasting menu , which includes a Niagara Charcuterie Board, Artisan Cheese Board, and Brewery Sliders, all specially designed to pair with Niagara Brewing Company beers.
"Niagara Brewing Company is a unique destination where guests can enjoy a laid-back atmosphere and quality craft beer in the same place where it's being brewed. The entire brewery experience has been designed by beer lovers for beer lovers and works to connect guests directly with the beer-making process and craft," says Sarah Vazquez, Vice President of Marketing at Niagara Brewing Company.
For more information on Niagara Brewing Company, please visit http://www.niagarabrewingcompany.com
About Niagara Brewing Company:
Niagara Brewing Company is a brand new craft brewery on Clifton Hill in Niagara Falls, Ontario. Under the leadership of Brewmaster Gord Slater, Niagara Brewing Company offers a number of unique brews that celebrate Canada's brewing heritage and Niagara's burgeoning craft beer scene.