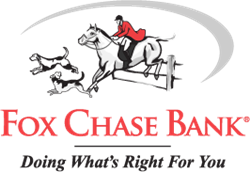 Hatboro, PA (PRWEB) June 12, 2015
Fox Chase Bank introduces Save! America program that includes a financial educational component shared through social media and implementing services such as notifying customers before returning checks.
The educational component includes financial tips and is based on the book, Save! America, written by Tom Petro, Fox Chase Bank's President & CEO, and Kris Messner. The book explodes the money myths that cripple people's thinking, presents refreshingly honest advice and provides a system that's easy for anyone to follow to achieve financial freedom.
Educational modules include "Your Money Behaviors," "Your Financial Freedom Plan," "Your Life & Money," and "Your Kids & Money." Each week, new content is shared on the bank's Facebook, Google+ and LinkedIn pages as well as the bank's new blog http://foxchasebanksavingsblog.com
The Save! America program also includes services to help people manage their finances. One such service is notifying customers before returning checks. This provides people with the opportunity to cover overdrawn accounts and avoid returned checks. This service stands in sharp contrast to the region's five largest banks, that according to a May 2015 SNL study, hauled in over $1 billion in overdraft fees and related charges during the first 90 days of 2015. https://www.snl.com/InteractiveX/Article.aspx?cdid=A-32710328-13106
"Phone calls are made on a best efforts basis," said Fred Duncan, Senior Vice President. "This gives our customers an opportunity to cover a check so it does not get returned, which can result in other problems for our customers. Our practice is to give a courtesy refund for a first time overdraft. For subsequent overdrafts we usually assess a fee which helps to offset the cost of notifying customers and all the added costs related to handling overdrawn accounts."
When a person overdraws an account and the payment is returned by the bank, it means a merchant, landlord or creditor wasn't paid. That usually results in late fees, returned check fees or other charges from the merchant and could, in certain circumstances, result in a late payment being recorded with credit bureaus. That could negatively impact a person's credit score.
"Notifying our customers via a call, text or email when their account is overdrawn is the right thing to do," states Tom Petro. "It gives people an opportunity to deposit money that will eliminate the overdraft and avoid all the hassles associated with having a payment returned for non-sufficient funds. We're giving them a heads-up so they don't have to spend their hard-earned cash on bounced-check fees and late charges."
About Fox Chase Bank
Fox Chase Bank is a community-oriented bank consistently delivering on the promise of doing what's right for people. The Bank, established in 1867, is headquartered in Hatboro, Pennsylvania. It provides a comprehensive array of financial products and services through nine branch offices in Bucks, Montgomery, Chester and Philadelphia Counties in Pennsylvania and Atlantic and Cape May Counties in New Jersey. Fox Chase Bank is distributing free copies of the book Save! America at their branch locations.