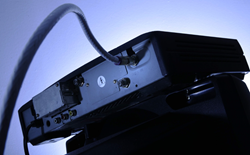 "VFT Solutions helps content owners, rights holders and broadcasters close the gap between content delivery and content security."
Ellenville, NY (PRWEB) June 11, 2015
VFT Solutions, Inc. announced today the US Patent Office's issuance of a patent that covers the piracy of communications using relocated satellite, cable and other broadcast reception devices.The patent issued to VFT Solutions Inc. for invention number 9,027,042 B2 is specifically for a system of detecting and verifying the unauthorized use of media content using a telecommunications reception device.
"This patent makes claims in connection with our VFT technology that allows Satellite, Cable and IPTV Providers as well as Content Owners, identify the geographic point of consumption. Armed with this ability reception device "stacking," "mirroring" or theft can be positively identified allowing for subscriber growth and additional revenue centers," said Wayne D. Lonstein, Co-Founder and CEO of VFT Solutions, Inc. "This patent represents an important addition to VFT's arsenal of technology which give broadcasters, content owners and creators the ability to grow legal consumption from the bottom-up in a user-friendly and scalable fashion."
The patent covers technology in VFT Solutions' portfolio which allows for the precise identification of, and if desired, personal interaction with individuals who are improperly or illegally using telecommunications reception devices without appropriate registration, disclosure or payment for the content consumed. This allows Satellite and Cable System operators to control equipment misuse and illegal account "sharing," which will ultimately lead to significant legal subscriber and revenue growth.
"With the rapidly expanding trend of "cord-cutting" and video streaming, it is vital that content owners and distributors be able to identify new subscriber and revenue growth opportunities – especially because of the potential for such individuals to be converted from pirates or illegal consumers to lawful, loyal subscribers. VFT Solutions provides the scalable technology to allow for a consumer-friendly exchange of pirates to customers," said Mr. Lonstein. "VFT technology helps content owners, rights holders and broadcasters close the gap between content delivery and content security."
About VFT Solutions, Inc.:
VFT Solutions is a technology service provider that provides a remedy for the ever-evolving, ongoing problem of content piracy and monetization to help companies preserve brand equity and protect valuable assets. The VFT platform is an all-encompassing method to address and challenge rampant piracy across all cultures, platforms, and brands. The founders of VFT Solutions bring unrivaled experience in combating content piracy, counterfeiting and infringement for nearly thirty years. Using their "Bottom-Up" approach to the challenge, they have helped brand and content owners preserve brand equity while effectively protecting their assets. They have helped content distributors and owners recover hundreds of millions of dollars in lost revenue, while converting over 90% of them into loyal customers.
For media inquiries, contact:
Wayne Lonstein, CEO
VFT Solutions, Inc.
844-483-8765
info(at)vft-solutions(dot)com
To learn more visit: http://www.vft-solutions.com