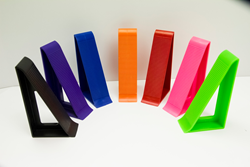 ...the J Wedge is a non-invasive, effective treatment for plantar fasciitis.
St. Louis, MO (PRWEB) June 16, 2015
Fitness professionals will soon converge in St. Louis for the NATA's 66th Annual Clinical Symposia and AT Expo. Held June 23-26 at America's Center Convention Complex, the four day conference offers learning labs, workshops, and an expo featuring over 350 industry-related vendors. J Wedge owners Mike and Carolyn Janzen will join these vendors as they introduce J Wedge to the athletic training community.
Developed out of necessity by avid runner Mike Janzen and physical therapist Carolyn Janzen, the J Wedge is a non-invasive, effective stretching tool that treats plantar fasciitis (commonly called heel pain). Prior to developing a severe case of plantar fasciitis in 2008, Mike participated in various races ranging from one mile to marathons. Already registered for the New York City Marathon, he tried all of the mainstream treatments (ice, massage, custom orthotics) to alleviate his pain. None worked. Eventually the two focused on stretching the fascia itself, and the J Wedge was created.
Stretching with a J Wedge takes less than three minutes. Using it three times per day can effectively treat plantar fasciitis induced heel pain and eliminate its recurrence. For more information on stretching with the J Wedge view this short, informational video.
Expo attendees are invited stop by booth number 1040 to try using a J Wedge. Interested in learning more about distributor opportunities? Contact customer service via phone at (855) 491-9021 or email at jhelp(at)jwedge(dot)com.
About J Wedge
If you are currently suffering from plantar fasciitis/heel pain and want to live free of discomfort, please visit our website. The J Wedge was developed in Wichita, Kansas by a runner and physical therapist after mainstream treatments for plantar fasciitis/heel pain failed to alleviate the runner's symptoms. A patented product, the J Wedge is designed and manufactured in the USA.