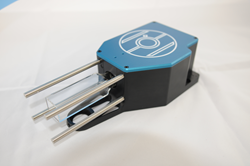 The miniMOT SE is a platform to help revitalize traditional physics curriculum and introduce students to the practicalities of working in the quantum sphere
Boulder, Colorado (PRWEB) June 10, 2015
ColdQuanta announces immediate availability of a streamlined, compact version of its popular magneto-optical trap for creating and trapping cold atoms. The new miniMOT SE™ will have similar functionality as the original miniMOT™ but in a smaller footprint and is priced for undergraduate institutions.
The miniMOT and the miniMOT SE are designed and build by ColdQuanta's engineers and physicists, experts in the field of quantum physics. They have worked with undergraduate educators to help develop experiments, which can be incorporated into a traditional physics curriculum. As atomic physicists they know how critical it is to revamp traditional physics education so that it incorporates physical experimentation based on quantum physics. This is particularly important as industry and governments around the world invest in applications based on quantum technologies such as quantum information processing, Positioning, Navigation and Time-keeping (PNT), gravimetry and magnetometry. Rainer Kunz, CEO of ColdQuanta stated that "Industry and governments will need a work-force with the skill sets to exploit the opportunities the quantum world will provide." He added "The miniMOT SE is a platform to help revitalize traditional physics curriculum and introduce students to the practicalities of working in the quantum sphere."
The new miniMOT SE, allows institutions without the infrastructure and skill-set normally required to create a magneto-optical trap to jump directly into the creation of cold atoms and delve into related experimentation almost immediately. It will be launched at the annual APS Division of Atomic, Molecular and Optical Physics (DAMOP) conference held in Columbus, Ohio 8th-12th June, 2015 where there will be a live demonstration at the ColdQuanta booth.
ColdQuanta, founded in Boulder, Colorado in 2007, focuses on the development, design, and manufacture of instruments and systems destined for quantum technologies applications. The company provides products and services for scientific and industrial applications such as cold atom experimentation, quantum simulation, quantum information processing, gravity sensors, magnetometers, atomic clocks and precision instrumentation.