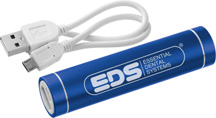 (PRWEB) July 07, 2015
Essential Dental Systems (EDS) has just announced its 2015 Third Quarter Promotion. Dentists who purchase $250 of any EDS products will receive a cell phone charger.
This sleek, stylish, and compact charger is the perfect item to take on the go. Bring it to the beach, traveling, or just to keep with you for emergencies; never worry about your cell phone battery dying again.
To redeem your cell phone charger, the dentist simply needs to fax EDS a copy of their dealer's invoice. This offer is valid on all EDS products. Offer valid on purchased made from July 1, 2015 through September 31, 2015. Complete details can be found below or by clicking: http://edsdental.com/promos/2015/q3/
Promotion Details: Purchase $250 of EDS products and receive a free cell phone charger. Offer is valid on all EDS products. Offer valid to dentists only. Invoices cannot be combined. Offer valid on purchases made from July 1, 2015 through Sept 31, 2015 only. The dealer invoice must be received by EDS no later than Oct 31, 2015. Dentist must purchase $250 of EDS products on one dealer invoice in order to receive the cell phone charger. Offer is valid while supplies last. This offer may not be combined with any other offer or promotion. Offer valid in Continental US only. Cell phone charger may be substituted with a like item of equal value if not available. EDS is not responsible for lost items. Dentist must provide EDS with proof of purchase by sending in the dealer invoice. Invoice may be mailed to EDS/89 Leuning Street, 2nd Floor/South Hackensack, NJ 07606, E-mailed to info(at)edsdental(dot)com, or faxed to (201) 487-5120. The invoice must include dentist's name, shipping address, phone number, and E-mail address. As required by the Sunshine Act, this promotion is reportable to the Dept. of Health and Human Services.