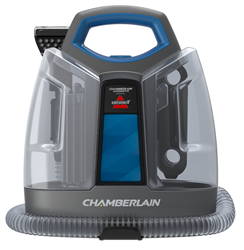 Elmhurst, Ill. (PRWEB) June 10, 2015
Chamberlain Automotive™ introduces its new Deep Cleaner that enables consumers to conveniently give vehicle upholstery, carpets, fabric car mats and cargo liners professional-quality deep cleaning results. Perfect for thoroughly cleaning dirt accumulated from daily use, as well as stains from beverage spills and messes created by kids and pets, the Chamberlain Automotive Deep Cleaner is designed for consumers who want to clean their own vehicles with a powerful, highly portable product.
Powered by BISSELL®, the Chamberlain Automotive Deep Cleaner combines the expertise in high-quality products for the garage from Chamberlain® with proven leadership in floor-care and cleaning solutions from BISSELL. The all-in-one Deep Cleaner is lightweight and compact, making it one of the most portable, professional-quality automotive cleaners available. The device packs a powerful cleaning punch, with Heatwave Technology™ maintaining consistent water temperature throughout the detailing process. The Chamberlain Automotive Deep Cleaner is available now for a suggested retail price of $119.99.
"A clean vehicle makes you feel good, but it always seems to fall down the to-do list. We want to make it fast, easy and convenient for people to get that job done well," said Bart Plaumann, Chamberlain Automotive. "Chamberlain understands the garage and the needs of car owners better than anyone, so we've teamed with a leading brand in floor-care appliances to bring BISSELL technology to the car care process, making professional-level car care simple and affordable for everyone."
The Chamberlain Automotive Deep Cleaner comes appointed with specially designed, top-of-the-line car cleaning accessories:

Unique Tough Stain Tool delivers extra strong spray action and suction to remove even the toughest stains
A 2-in-1 Spraying Crevice Tool for cleaning a car's hard-to-reach nooks and crannies
An ultra-durable, flexible hose
Soft-grip handle for comfort
Removable water tanks for easy filling and spill-free emptying
Eight-ounce sample bottle of Spot & Stain Remover formula
For superior cleaning results, Chamberlain offers two specially formulated cleansing products to complement the Deep Cleaner: 32-ounce bottle of Pet Stain & Odor Remover for a suggested retail price of $9.99, and 16-ounce bottle of Spot & Stain Remover for a suggested retail price of $7.99.
For more information about Chamberlain Automotive products, visit http://bit.do/ChamberlainAuto
About Chamberlain Automotive
Chamberlain Automotive is a business unit within The Chamberlain Group, focusing on development of advanced technology and care products for the automotive aftermarket. The Chamberlain Group manufactures and markets some of the most reliable and innovative do-it-yourself products for the garage and home. Chamberlain offers a full line of residential garage door openers and accessories as well as other cutting edge garage solutions. For more information on Chamberlain products, visit http://www.Chamberlain.com.
# # #
Chamberlain® is a trademark licensed by The Chamberlain Group, Inc.