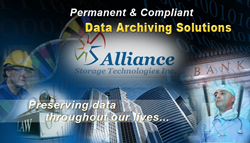 Visitors to the site will learn how ASTI's multi-faceted tiered approach to data archiving can improve efficiency and reduce operational costs
Colorado Springs, CO (PRWEB) June 10, 2015
Data archiving industry leader Alliance Storage Technologies, Inc. (ASTI), launches a new website designed to expand the customer experience with improved navigation and details on a variety of industry leading data archive solutions with proven long-term reliability and scalability. Highlighted are new product enhancements including Cloud-Integrated Storage, data security features, and high-availability options.
The site features an in-depth technology section dedicated to customer education, which reflects ASTI's over 25 years of industry experience providing data archiving solutions to customers worldwide. According to the company, education was a key motivator in rebuilding the website. "IT departments face many challenges when archiving data. We wanted our customers to be equipped with sufficient knowledge to make a well-educated decision when determining the right solution for their environment, including how and when to archive, and on what technology," added Jim Heckethorn, Director of Sales & Marketing. As an added resource, visitors can download the company's Data Management Strategies brochure.
Visitors to the site will learn how ASTI's multi-faceted tiered approach to data archiving can improve efficiency and reduce operational costs. Emphasized are the many factors to consider when implementing a solution including budget, availability and accessibility of data, disaster recovery, recovery time and point objectives, retention duration and compliance with government and industry mandates.
A large area on the website has been devoted to ASTI's exemplary global services and support for all our current optical data archiving systems with Service Direct maintenance plans available for varying business needs. Additional professional services are available for sustaining support assistance outside of typical maintenance agreement coverage such as data migrations and media cleaning.
Equally addressed are the needs of customers seeking support and service for legacy optical libraries utilizing Sony Magneto Optical drives, such as Plasmon M-series, IBM, and HP. Many businesses and organizations still have these libraries in production but need technical support, service and parts – a void that few other businesses are willing to fulfill. "ASTI has continued to support customers with legacy data archiving libraries, and we felt that creating space on the website will enable customers to locate the type of support they need," explained CEO, Chris Carr. "Extending the support for customers provides greater ROI for systems that are 10 to 20 years old. Additionally, we have several strategies for providing upgrade path options for customers using Magneto Optical (MO) media. We have special upgrade programs available for customers using Magneto Optical (MO) media which is now in very short supply."
Recognizing the value of channel relationships and its crucial role in cultivating new and existing business relationships, ASTI has integrated an exclusive Partner Resource Portal enabling resellers and partners to access important content, product information and customized marketing materials. The company believes that supporting partners is the key to supporting customers.
As a full service provider, Alliance Storage Technologies, Inc. offers contemporary solutions for data archiving that enable businesses and enterprises to create an archiving ecosystem specific to the needs of the organization according to capacity, scalability, performance, features, and budget.
ASTI invites you to visit the new mobile friendly website at http://www.alliancestoragetechnologies.com. Check back frequently for news and announcements or follow us on LinkedIn.
###
About Alliance Storage Technologies, Inc.
Alliance Storage Technologies, Inc. (ASTI) is the primary source for professional data archiving solutions worldwide that meet and exceed challenging regulatory demands for secure archival data. Professional solutions provide value to any industry including: Healthcare, Finance, Government, Insurance, Legal, and more. These regulatory-compliant systems preserve unaltered data for extended periods (greater than 50 years) at an exceptionally low total cost of ownership.
Integrated and scalable professional data archiving solutions include: Cloud Integrated Storage (CiS), Network Attached Storage (NAS), related management software, and direct attached libraries all with true Write-Once-Read-Many (WORM) as the core technology. Best-in-class global support services are available to sustain customer installations. Additionally, a complete line of certified Plasmon® parts are available. ASTI is committed to providing every customer with exemplary customer service and support from first contact through the life of the relationship. Thousands of businesses worldwide trust ASTI quality to secure their valuable investments in corporate data.
For further information call 719-593-7900.