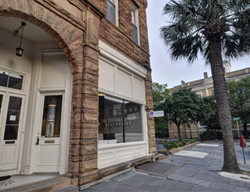 We are thrilled to now have a location on East Bay Street. It will give our firm excellent visibility on the downtown peninsula and greater ability to serve our clients
(PRWEB) June 10, 2015
The Cassina Group, a local Charleston, SC real estate firm, has opened its third office. The new office is located at 132 East Bay Street in downtown Charleston and adds to the company's existing offices at 309 Coleman Boulevard in Mount Pleasant and 69 Morris Street downtown.
"We are thrilled to now have a location on East Bay Street," said Robertson Allen, company co-founder and Broker in Charge at the East Bay office. "It will give our firm excellent visibility on the downtown peninsula and greater ability to serve our clients."
The Cassina Group was founded in 2006 with a vision of doing real estate differently. By balancing traditional real estate models with unique marketing and emerging technology, The Cassina Group has created a cutting-edge and innovative company that serves as a leader in the Charleston real estate market.
"Our growth over the past few years has been significant and sustained. We attribute much of our success to our passionate and team-driven agents as well as our supportive and loyal clients," said Jimmy Dye, co-founder of The Cassina Group. "Our new office at 132 East Bay Street will allow our growth to continue long into the future."
For more information on The Cassina Group, visit http://www.thecassinagroup.com.
About The Cassina Group
The Cassina Group is a boutique real estate brokerage with offices in Mount Pleasant, SC and Charleston, SC. Recent awards include top honors from Charleston Magazine, Inc. 5000 and SC Biz News. For more information, visit http://www.TheCassinaGroup.com or call 843-628-0008.