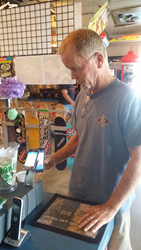 "Our return on investment has been incredible and the app is connecting with customers on a tremendous level," according to Wahoo's co-founder Wing Lam.
Santa Ana, Calif. (PRWEB) June 10, 2015
When Wahoo's Fish Taco (http://www.wahoos.com) needed a means to engage its guests via their mobile devices, it looked at every conceivable payment, ordering, and customer loyalty solution available. It took action with CircleShout's Digital Engagement Platform, the only solution that truly offered everything its guests would want and with the kind of experience they have come to expect from Wahoo's (http://www.circleshout.com). CircleShout completely customized the solution to get Wahoo's a fully branded, cost-efficient mobile services platform in very little time.
Wahoo's implemented CircleShout's platform through a five-step program in a national rollout to all [40+] of Wahoo's corporate locations featuring online and mobile ordering, events RSVP, a new customer loyalty structure, suggestive ordering and hyper-local targeted engagement.
Acceptance of the new time-saving, customer-focused platform – as well as hard results -- has been immediate and surpassed expectations for driving revenue, frequency, and customer engagement to record-high levels at the restaurant chain. According to Wahoo's co-founder Wing Lam, "Our return on investment has been incredible and the app is connecting with customers on a tremendous level."
Since launching, recent promotions have increased download rates north of 200 percent week over week. Through this growth, the Wahoo's app maintains an average number of user sessions per month that is 46 percent higher than the industry standard, helping both gain and retain new customers for Wahoo's.
This is due in part to the fact that more than half of all Wahoo's mobile rewards sent are redeemed, a 400 percent higher redemption rate than the industry average. Those redemptions are resulting in increased sales, as Wahoo's average ticket for mobile and online orders are respectively 2 and 2.5 times higher than the average dine-in customer. When combined, these new ordering methods are responsible for a net-new growth of nearly seven percent in revenue for total takeout sales across the chain's corporate locations.
CircleShout's secret sauce for the Wahoo's app is based on a unique three-part algorithm for customer behaviors and interests. "Learning from behaviors across these three dimensions gives merchants actionable data to lead their customers to increasingly personalized, targeted, and relevant purchases over time," said Ian Rice, CEO of CircleShout. "Unlike other digital engagement systems, CircleShout closes the loop. It helps to identify relevant customer groups, encourages customers to state their unique interests and preferences, and then empowers merchants to lead customers to a transaction based on those stated interests. The 'intelligence' gleaned from this process allows merchants to refine and retarget customers in a whole new way, making CircleShout a dramatically more effective tool for merchants to interact with their customers and communities."
This all-mobile experience opens up new opportunities for restaurants to drive incremental sales by leveraging the increasingly on-the-go nature of customers. With CircleShout, a restaurant could offer targeted and relevant discounts to unique pre-qualified customers to encourage purchases at specific locations, during key times of the day or on certain days of the week, added Rice.
The updated version of the Wahoo's app will be released on June 10th in the Apple App Store and Google Play Store for all iPhone, all iPad and Android devices. Go to http://www.wahoos.com/app to download.
For more information about CircleShout, the creator of the Wahoo's app, visit http://www.circleshout.com. To see how CircleShout works, watch the video at https://circleshout.wistia.com/medias/dvfzmp2dgq.