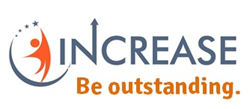 New York, NY (PRWEB) June 11, 2015
At INCREASE, the approach is based on synergy between tutoring and college counseling. After all, why study if you're not going to get in? Endless practice exams are pointless and demoralizing. Students should be studying what will actually help them get into college, and their tutors should work with the right goals in mind. Astoundingly, most tutoring firms fail to make this crucial connection – and students are the ones who suffer for it.
In an industry where standard practices involve wearing students down through repeated practice tests, INCREASE aims to take a more sensible, compassionate, and most importantly, effective approach. One of the ways it accomplishes this is through regular meetings with college counselors.
At the June 16th Synergy Meeting at Options for College, INCREASE tutors and Options for College counselors will meet and realign on their shared students and goals. Tutors will discuss their progress with each student, and counselors will make sure tutors understand the targets and college lists. Studying for standardized tests becomes a strategic mission, not just pointless torture, when everyone involved knows exactly what the student hopes to achieve in the college process.
Why is summer the right time to realign?
A summertime study schedule gives tutors and students the chance to truly focus on exactly what the student needs to learn, and do it on a manageable timeframe. This also makes it a perfect time for the INCREASE team to realign on their students and what they need. INCREASE believes that all students learn differently, but can succeed with the right study plan and the right help. In the summertime, when students aren't facing as much pressure from homework and school exams, tutors often have more time to work one-on-one with their students and get them the help they need, putting students in a great place to excel in school and on standardized tests come fall.
The INCREASE head office intentionally sends out test reminders months ahead of exams – there is no reason that all students can't excel on standardized tests if they're given enough time and the right study plan. INCREASE tutor Jackie Wu explains, "Tutoring is important because everybody learns in a different way and at a different pace. What works for one person is not guaranteed to work for another. Unfortunately, it is difficult to tailor to all types and speeds of learning in a school setting. One-on-one tutoring allows the student to have a more personalized way to learn."
What's next for INCREASE?
After the meeting, counselors and tutors will work on next steps and study plans with their students. This fall, look for our experts at events including the Scholar Search Educational Forums in Baltimore on October 18th and Philadelphia on November 7th.
Parents and students interested in learning more or taking a free diagnostic exam can visit Increase's practice at the following URL:
http://www.IncreaseYourScore.com
Visitors can learn more about Options for College at:
http://www.OptionsForCollege.com
Contact: Abby Kelly
Options for College, Inc.
1115 Broadway, 10th Floor
New York, NY 10010
Direct: 646-378-7870
INCREASE Main Number: 844-34SCORE (844-347-2673)
End
###