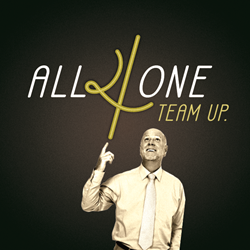 Have you ever stood with key in hand at your back door, hesitant to enter your own practice because you knew your team was already in there, undermining each other? It's time to TEAM UP.
Las Vegas, NV (PRWEB) June 11, 2015
Dental teams are invited to participate at an innovative dental team-building event specifically designed to bring out the best in dental teams. The All4One TEAM UP event will be held at the beautiful Venetian Hotel in Las Vegas on August 7 and 8, 2015. Developed from the ground up by a top professional corporate coach along with several top experts in dentistry, All4One integrates real-world best practices into the day-to-day dental practice.
Over the course of two days, participating dental teams will work through four engaging modules including: Make, Not Break, Your Team; Get Off the Bench and Into the Game; Practice for Perfection; and Create Your Own Dynasty. Teams will integrate the latest thinking in perfecting team dynamics for profitability and sent home with required resources and support to immediately enjoy positive practice growth. Tuition to the All4One TEAM UP event is guaranteed, and profits from the event will be donated back to dental charities voted upon by event participants.
Dr. John Sullivan and Nancy Lashley Sullivan developed the All4One TEAM UP curriculum in partnership with Tanya Thompson, a top corporate coach and facilitator whose clients include Apple, TedTalks, Adidas, Nike, Microsoft and the U.S. Navy. Thompson brings expertise in the best practices of the most successful corporate teams in the world to the world of small business dental practices.
"After investing too much money, time and hope into other dental team events, we decided to create our own," says Dr. Sullivan, one of the creators of the All4One TEAM UP event. "Combining our experience with that of Ms. Thompson and other dental experts including Ginny Hegarty and Melinda Heryford, our event is literally guaranteed to send teams home prepared to win at the game of dentistry."
Dr. Sullivan has been a practicing dentist for over 30 years in Tulare, CA, and lectures both nationally and internationally on clinical dentistry, dental practice leadership, and dental practice marketing. He was Accredited by the American Academy of Cosmetic Dentistry (AACD) in 2006 and served as president of the AACD in 2011-12. Lashley Sullivan is president of Athena Dental Marketing. Since 2002 she has worked hundreds of dentists, dental organizations, dental consultants and dental companies on marketing, branding, strategy and public relations.
Dental practice teams are invited to register for the All4One TEAM UP event this August 7 and 8 at the Venetian Hotel in Las Vegas. For more information or to register, go to http://www.Smile4Ward.com.
Smile4Ward.com provides cutting-edge content, education and resources to the dental profession. With an emphasis on dental philanthropy and transparency, the team behind Smile4Ward.com continues to expand the website's offerings to dentists, dental teams, and the experts of the dental profession.