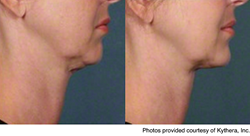 Memphis, TN (PRWEB) June 12, 2015
Dr. Purvisha Patel will make a guest appearance on ABC 24's "Local Memphis Live Show" on Friday June 12 to discuss "Kybella", a new injectable treatment to melt small areas of fat under the chin which will be available in late June 2015.
Dr. Patel, who is a board certified dermatologist will show how Kybella and similar injectable treatments can dissolve small areas of fat and "erase" a double chin without going under the knife. "Kybella is identical to the deoxycholic acid that is produced in the body," says Dr. Patel, of Advanced Dermatology & Skin Cancer Associates with offices in Germantown, TN and Olive Branch, MS.
"Deoxycholic acid helps the body to absorb fats," says Dr. Patel." Kybella is a 'cytolytic drug', which when injected into tissue physically destroys the cell membrane. When properly injected into submental fat, the drug destroys fat cells." Dr. Patel will illustrate the amount of reduction in the appearance of a double chin can be expected with the treatment.
"A double chin can make a person appear older or tired. However, many patients can benefit from this type of injectable treatment, depending on the amount of fat that is present and their individual condition," says Dr. Patel.
For more information on minimally invasive cosmetic procedures and skin care visit http://www.advanceddermatologymemphis.com and call (901) 759-2322.