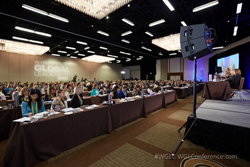 "It was my very first conference in my career and being able to listen to the speakers talk so highly about the industry was amazing. I have been inspired and motivated to work even harder so that I could be just as successful." - WGLC 2014 attendee
Houston, Texas (PRWEB) June 15, 2015
Gulf Publishing Company announces, Michele McNichol, CEO of Wood Group Mustang, and Vicki Hollub, Senior EVP of Occidental Petroleum and President of Oxy Oil and Gas, will be delivering keynote presentations at the 2015 Women's Global Leadership Conference (WGLC), to be held October 27th and 28th, at the Hyatt Regency Hotel in Houston, Texas.
"We're thrilled to have Michele and Vicki delivering this year's keynote presentations," said Melissa Smith, Events Director at Gulf Publishing Company. "It's exciting to have the first-ever female CEO appointed to a major US oil company, as well as a major engineering firm's first female CEO, speak at this year's conference. These ground-breaking accomplishments are an inspiration to women throughout the industry who aspire to reach the top of their career field."
Registration is now open for WGLC and a discount of 15 % is available for conference attendees who register on or before August 11, 2015. WGLC is one of the largest women's events in the oil and gas industry; bringing together hundreds of the industry's aspiring and leading female executives. Now in its 12th iteration, the conference provides a vital forum for women to learn about the current industry outlook, further their professional development, and make valuable networking connections with other women in the energy sector.
Attendees will benefit from: inspirational presentations from leading female executives; insight into current industry trends, opportunities and future outlook; valuable advice on how to develop their leadership skills and advance in their career; a candid discussion on balancing home/work life; and networking opportunities with fellow attendees plus speakers and sponsors from top operator and service companies.
The 2015 conference program will be put together by our esteemed advisory board, which includes representatives from: American Petroleum Institute; Aramco Services Company; Baker Hughes Incorporated; BG Group; BHP Billiton Petroleum; BP, Chevron Global Upstream and Gas, Clarey/Napier International; Ernst & Young LLP; ExxonMobil Exploration Company; Gelb Consulting, an Endeavor Management Company; Schlumberger; Statoil; Tudor, Pickering, Holt & Co and Zone Energy, LLC.
To register or learn more about the conference, please log onto WGLConference.com.
You can also follow us on twitter at https://twitter.com/WGLNetwork; like our Facebook page at https://www.facebook.com/WGLNetwork; and/or join our LinkedIn Group: Women's Global Leadership Network.
For more information regarding sponsorship and speaker opportunities for the conference please contact Melissa Smith at Melissa(dot)Smith(at)gulfpub(dot)com.
####
Gulf Publishing Company is an international publishing and events business dedicated to the energy sector. Founded in 1916, Gulf Publishing Company produces and distributes leading trade journals (World Oil, Hydrocarbon Processing and Gas Processing magazines), and provides research, databases, software and events designed for the needs of the energy industry. Combined, the specialized publications of Gulf Publishing Company reach an audience of more than 100,000 upstream and downstream energy industry professionals worldwide.