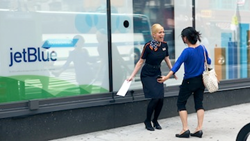 These activations were designed to break demanding travelers out of their familiar patterns and deliver imaginative experiences in line with the JetBlue brand.
Fairfield, NJ (PRWEB) June 10, 2015
To highlight robust route and product offerings on the east coast, Pearl Media partnered with Mullen Lowe U.S. on behalf of its client, JetBlue Airways to deliver a trio of differentiated and unexpected brand experiences. Each was infused with JetBlue's brand mission to inspire humanity at every touch point. JetBlue Airways, New York's Hometown Airline™ is also recognized as a leading carrier in Fort Lauderdale/Hollywood. The featured experience, Wingman, created a virtual storefront display where customers were surprised by a real-time interaction with a JetBlue crewmember. See the reactions unfold here: A Better Wingman
"We are always looking for unique ways to entertain and educate our customers," said Phillip Ma, JetBlue's manager of advertising. "To maximize our creative work with Mullen, we partnered with an innovative media production company like Pearl to create rich experiences in New York and Florida that enabled us to reach our customers on the ground. These delivered on the fun factor and illustrated our core brand story and mission."
"From the edgy approach of using a live crewmember to engage with busy New Yorkers to a fun and interactive game for Florida mall shoppers, these activations were all designed to break demanding travelers out of their familiar patterns and deliver imaginative experiences in line with the JetBlue brand," says Josh Cohen, CEO, Pearl Media.
Crowd-pleasing activations throughout the month of May included:

Wingman – Popping up in the Chelsea neighborhood of New York City, the virtual experience became real for New York City passersby. Through the familiar, holographic display customers might see in-terminal, the Wingman execution illustrated how JetBlue infuses humanity into the entire customer and brand experience. Through a digital storefront display, busy New Yorkers were prompted to interact with a seemingly robotic JetBlue crewmember for standard question and answer dialogue around JetBlue product offerings. But, the crewmember quickly surprised audiences in a live bait-and-switch, where she took over the storefront, engaging with customers in real time through unexpected, legitimate conversations. Personifying JetBlue's egalitarian and award-winning approach to customer service, Wingman highlighted the brand's core offerings through an entertaining and unique delivery that drove more than 2,600 unique participants. Invaluable customer feedback was also obtained from the activation as twice as many participants selected "Legroom" as the most important JetBlue feature over all other options presented on the home screen interface.
Curaçao – To build awareness for JetBlue's new nonstop service to Curaçao from Terminal 5 at JFK International airport, a heavily trafficked storefront in New York's Meatpacking District was outfitted with an interactive digital window that beckoned customers to transport themselves to the cultural Caribbean treasure through pictures and video, allowing them to explore eight distinct Curaçao attractions. Customers were encouraged to engage and share selfies at the display via #JetBlueGetaways on Instagram. Each share entered attendees into a JetBlue Getaways sweepstakes for a hotel and flight package to the Caribbean island.
Shades Up – Shoppers in the Aventura Mall (north of Miami) were invited to play "Shades Up," a first-of-its-kind digital interactive game installation. An actual fuselage was set up in the mall and programmed to spotlight the depth and breadth of the airline's nonstop destinations from Fort Lauderdale. Simulating the inflight experience, mall-goers lifted each window shade to reveal unique aerial views of destinations specific to JetBlue's nonstop route offerings. Fun for the whole family, customers were prompted to guess which destination they were viewing through the window, which entered them into a sweepstakes to win two roundtrip tickets to anywhere JetBlue flies. Over the one-week period the activation garnered almost 9k total interactions and 1,678 email submissions representing an 18.75% response rate (the industry average is 10%).
About Pearl Media
Pearl (http://www.pearlmedia.com) is a collective of thinkers, tinkerers, engineers, designers and dreamers. Our team is comprised of people with experience in interactive design and implementations, projection mapping, television and film production, event design and production, logistics and city relations. Headquartered in Fairfield, NJ, with offices in Los Angeles, Chicago and Miami, Pearl crafts experiences that enhance brands and drive business, creating meaningful connections with people. We transform spaces and places in categories including: automotive, spirits, fashion, CPG, retail, gaming and entertainment and more.
About Mullen Lowe U.S.
Mullen Lowe U.S. is a unit of Mullen Lowe Group, a creatively driven global network of distinctive agencies in more than 65 markets worldwide. Mullen Lowe U.S. is a "hyperbundled" agency, integrating disciplines from brand strategy to creative, digital marketing, media planning and buying, mobile marketing, public relations and social influence, design, CRM and performance analytics. Mullen Lowe U.S. specializes in working with thought-leader brands, including Acura, Royal Caribbean, JetBlue, Zappos, U.S. Cellular, FAGE, American Greetings and Patrón. Mullen Lowe U.S. has offices in Boston, NYC, LA and Winston-Salem, NC. Mullen Lowe U.S. is a wholly owned subsidiary of the Interpublic Group. For more on Mullen Lowe U.S., please visit mullenlowe.com, twitter.com/mullenloweus or facebook.com/mullenloweus.