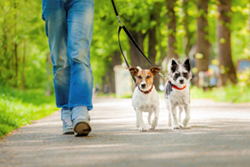 "They call us and set up a regular walking schedule so they don't have to worry that their dog(s) is at home, on the verge of having an 'accident.'" Park Cities Pet Sitter President, Joette White
Dallas, Texas (PRWEB) June 10, 2015
When Park Cities Pet Sitter President, Joette White, bought her business in April of 2000, the majority of the company's clients were busy professionals who often traveled for business; or were individuals and families who would go out of town for holidays and vacations, and they needed someone to care for their pets in their absence. Fast-forward to 2015, and Ms. White still has a large number of these types of clients. But there is also a faster growing segment of clients that didn't exist in great numbers 15 years ago---daily dog walk clients.
Who are "daily dog walk" clients, and why has there been such an increase in them over the last decade? Ms. White explains the business segment this way, "Daily dog walk clients are clients who are physically 'in town', but for a variety of reasons, they need assistance in exercising their dog(s) or in having their dog taken outside for a potty break. There are all kinds of reasons for needing this type of service. We have clients that live in high rises, townhomes, condominiums and apartment complexes, so their pets do not have regular access to a yard. Many times these clients are busy professionals that work long hours, and they simply cannot easily plan whether they will be able to come home to take out their dog within a certain time frame. So they call us and set up a regular walking schedule so they don't have to worry that their dog(s) is at home, on the verge of having an 'accident.'"
Ms. White says that a lack of yard access during the day is not the only reason clients sign up for daily dog walks. "We often have clients hire us for daily dog walks when they get a new puppy. The general rule of thumb is that a puppy can hold their bladder for as many hours as the number of months old they are. So if a puppy is three months old, they can normally hold their bladder for three hours. If the puppy's humans work during the day, it is not realistic for them to come home every three hours to take out the puppy, so they hire us to come in once or twice per day to take the puppy outside instead," said Ms. White.
According to Ms. White, hiring a daily dog walker like those at Park Cities Pet Sitter can come in handy for a multitude of other reasons besides those mentioned above. Her company's dog walkers have been hired for reasons like:

A client has an elderly dog who is having trouble holding his bladder, and thus needs more frequent potty breaks;
A client was pregnant and did not feel comfortable walking the dog safely, particularly in the Texas summer heat; she also wanted someone to be able to walk the dog in the first few months after the baby was born, when she would not feel comfortable taking the baby with her on a walk;
A client has a high-energy dog, and in order for the dog to remain physically and emotionally happy, it needs regular exercise.
A client has a mischievous dog that would get into the trash and be destructive when bored; so he hired Park Cities Pet Sitter to walk the dog daily so that the dog could get plenty of sunshine, socialization and smells.
Clearly there are a number of reasons that Park Cities Pet Sitter's daily dog walk business has grown. But Ms. White attributes most of the new business to her client's higher prioritization of their pets. "With a large Baby Boomer population, empty-nesters, more people delaying having children, and more single adults in the world—pets have become a more important part of our lives," said Ms. White. "Pets are considered family, and because of that we are seeing our clients do more and more to prioritize their mental, physical and emotional well-being through services like daily dog walks."
Park Cities Pet Sitter, Inc. has served the Dallas area 7 days a week, 365 days a year since 1992. Pet sitting, daily dog walks, pet taxis, overnight sitting, pet supply shopping,litter box cleaning and dog training are all part of the services PCPSI offers. Park Cities Pet Sitter is bonded and insured, and all sitters are employees--not independent contractors. A manager is on-call 24 hours a day to handle any emergencies. Additional information about Park Cities Pet Sitter can be found on their website at http://www.pcpsi.com.