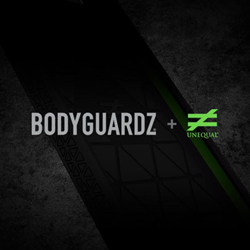 "If professional athletes trust Unequal to protect their bodies and careers, you can trust it to protect your phone."
Lehi, Utah (PRWEB) June 10, 2015
BodyGuardz, a leading mobile device protection company, is proud to announce its new partnership with Unequal Technologies, an industry leader in impact protection technology. The new partnership paves the way for new line of ultra-protective device accessories that feature Unequal's proprietary impact-reduction composites, currently used by professional and college athletes. The products will feature a line of athletic-inspired phone cases due to launch in the coming month.
"We are thrilled to be working with BodyGuardz because of their commitment to bring their customers the best in protection," said Rob Vito, President of Unequal Technologies. "Our technology has versatility that spans a variety of industries and applications. Using Unequal to bolster protective qualities of smartphone cases is a perfect example of that versatility."
Unequal's unique shock-blocking technology has over 85 U.S. and international patents, and is used to protect all levels of athletes from harmful collision and impact. The new BodyGuardz accessories featuring Unequal technology will block shock and protect devices in a similar fashion.
"We were extremely impressed with the technology Unequal has created and with how ideal the application of the technology is for device protection," said Kirk Feller, CEO of BodyGuardz. "If professional athletes trust Unequal to protect their bodies and careers, you can trust it to protect your phone."
Visit http://www.bodyguardz.com/unequal for product launch information.
About BodyGuardz
Since 2002, BodyGuardz® has been providing customers with the ultimate device protection. BodyGuardz distinguishes itself through its constant innovation in technology and delivery of industry-leading products. BodyGuardz product line includes the full gamut of device protection solutions, including: tempered glass and film screen protectors, full-body films and armors, and a full-line of cases for a variety of smartphones and tablets. For more information, visit: http://www.bodyguardz.com.
About Unequal Technologies
Unequal is the leading provider of supplemental protection technology, committed to help reduce blunt force trauma suffered by athletes and soldiers. Unequal uses a patented fusion of a military-grade composite made with Kevlar®, Accelleron® and optimal ImpacShield™ for customized protection, and owns over 85 international and U.S. patents and patents pending. Professional athletes in the NFL, MLB, NHL and X Games, as well as thousands of collegiate and youth athletes trust Unequal for protection. For more information, visit: http://www. Unequal.com.