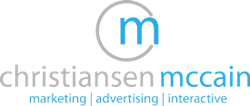 Our research indicated that there was a strong interest in learning about the agency's approach to results-oriented marketing
Omaha, Nebraska (PRWEB) June 10, 2015
Christiansen McCain, a strategic marketing, advertising and interactive agency headquartered in Omaha, Nebraska, invites you to visit the company's new website. Prior to launching, Christiansen McCain did extensive research on visitor flow, goals and acquisitions to come up with a fully custom responsive website that allows potential clients to view extensive case studies featuring the agencies latest work, amazing UX and UI design and detailed information that gives clients a better understand of how the company generates revenue growth for its clients.
The website is fast, light and developed responsively in order to give the audience the best experience for their device. With Google's new algorithm change, a responsive website was a top priority for the company. The new website updates will boost search traffic, reduce bounce rates and create longer sessions with the goal of better qualifying prospects through the website, regardless of device. Clients will be able to view full service capabilities, database marketing, interactive, content marketing, branding, media and print so they know what each one entails.
To properly develop the website, Christiansen McCain followed an extensive discovery process that they apply to every client. This process includes, but is not limited to, a competitive analysis, web analytics review, site mapping, wireframe development, creative execution and programming.
"Though our previous website was responsive, Google's algorithm change spurred our initial redesign efforts, and we made sure that we followed the same self-discovery process that we apply for our customers. The results surprised even us and the end-product speaks for itself," said Chris McCain, President of Christiansen McCain. "We are extremely proud of our team and are excited for great things to come."
"Our research indicated that there was a strong interest in learning about the agency's approach to results-oriented marketing. The best way we could share our experience with our clients was to develop a blog. The blog not only gives us an outlet to share what we know, but it gives us another opportunity to communicate directly with our audience," Caid Christiansen, CEO of Christiansen McCain.
"Results are key when it comes to marketing, we can design beautiful UX and UI, but when you don't drive traffic, you just have a pretty website. We wanted our website to show our clients exactly how we do it, why what we do makes a huge difference in marketing your product or service and give them avenues to get great information that they can use, such as our blog," continued Caid Christiansen.
In addition to case studies, portfolio samples and capabilities, the new website features an agency blog. The blog will focus on industry trends, experience and opinions, marketing strategy, the state of the print industry and much more. With Fortune 500 companies clients in Healthcare, sports science, agriculture, heavy equipment and other verticals, it was important to get case studies up to show the success of our clients.
About Christiansen McCain
Christiansen McCain LLC, a full service strategic marketing, advertising and interactive agency. Founded in 1998, we serve local and regional clients, as well as Fortune 500 companies. Areas of expertise are agriculture, healthcare, heavy equipment, home accessory and sports apparel. CM thinks like a CMO and executes results-driven tactics on levels that other agencies can't match. Since the beginning, our goal has been to become our clients' marketing right arm and to truly understand what makes their customers tick. For more information, visit http://www.christiansenmccain.com