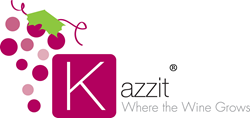 We are flattered and humbled by the support the wine community has shown. It reaffirms our mission and the need from the wine community
Phoenix, Arizona (PRWEB) June 11, 2015
Kazzit International Winery Guide successfully managed to get their campaign on Kickstarter for their winery guide. The campaign kicked off on March 2nd 2015 and has so far attracted dozens of backers who have pledged over $20,000 to help bring the project to life.
Kazzit is the most comprehensive guide to US and International wineries on the web. It has become recognized as the online authority for the wine community, and through its innovative platform that connects wineries, restaurateurs, vineyards, collectors, and enthusiasts, it has also become the first global marketplace where you can book wine tasting reservations, find wineries, browse wine related classifieds, explore local wine events, and find wine deals directly from producers. Kazzit will also be a place to buy wine and accessories online.
Kazzit found that every month, approximately 6 million Internet users conduct winery or winery-related queries. Unfortunately, there is no single, authoritative resource to meet this informational demand. This is why Kazzit moved in to bridge this gap and in so doing, they have become the only source for those who seek detailed information about wine buying, wineries, and wine-related events.
On this platform wine collectors, enthusiast, novices, producers and restaurateurs can search public and private wine tastings, wineries, and other types of unique wine events. So, whether you are a knowledgeable wine lover or new to wine, you will get an experience like no other. Kazzit stays up-to-date with any upcoming wineries, and when you sign up with them you will have direct access to these new wineries.
With the continued support of the wine community, Kazzit promises to continue content development and also to continue providing the information wanted by an actively seeking audience and fulfill tremendous market demand.
"We are flattered and humbled by the support the wine community has shown. It reaffirms our mission and the need from the wine community," says Babak Motamedi, Founder and CEO of Kazzit.
Kazzit matches customers with specific vineyards and wineries via customizable searches based on varietals, geography and reviews. You will be presented with producer-generated media including photos, videos, and other information that will help you make the right purchase or reservation. Apart from the Winery Guide, they also provide a whole host of tour descriptions, informative articles, and wine advice to keep your inbox and itinerary full of the information you crave.
About Kazzit
Kazzit was founded by long time friends Babak Motamedi, a wine-lover and entrepreneur, and Peter Kasperski, the proprietor of Scottsdale's Kazimierz World Wine Bar and owner of one of the largest collections of fine wine in the United States. Recognizing the need for a comprehensive source of information for all things wine, Kazzit was created to connect wine producers and consumers. The only thing they love more than wine is people, so you can contact them to hear more about how Kazzit can help your business reach a vast international audience of buyers, collectors, and wine enthusiasts.