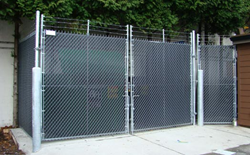 QS Fencing Company has several varieties of fences that provide security and beauty without blocking out the view.
Vancouver, BC (PRWEB) June 10, 2015
QS Fencing Company now introduces new ornamental fence range that helps in enhancing the view and providing security to the client's residential property. Vancouver property buyers offer higher bids for a house with a good view. Recently, a view property in West Vancouver is in contract to be sold for $1.1 Million above its asking price of $2.98 Million and will be sold to a winner bidder from mainland China for $4.1 Million, reports the Vancouver Sun at http://goo.gl/gw8jLC.
Many real estate agents believe that properties with a good view manage to perform well in Vancouver's raging real estate market. Royal LePage Sussex listing agent, Viv Harvey, attributed the property's high price to its unobstructed view. "It really is the view. It's expansive from Stanley Park to Point Grey to the Straits to the Gulf and San Juan islands," said Harvey.
However, homeowners need to ensure that this feature stands out and that the view can be enjoyed to the fullest. One way of highlighting the view is installing a chain link or picket fence.
QS Fencing Company's new ornamental fence range has several varieties of fences that provide security and beauty without blocking out the view. These residential fences are available at affordable prices and come with a promise of high quality and superior customer service. QS Fencing "view property" selection includes privacy fences, privacy slats, garden gates and ornamental picket fences.
About QS Fencing
Established in 2010, QS Fencing is a young family-owned business that aims to provide quality products and superior service. It is a Vancouver Fencing Company that is licensed and insured. All their employees are WCB insured as well. QS Fencing serves the geographical areas of Vancouver, West Vancouver, North Vancouver, Burnaby, New Westminster, Coquitlam, Port Coquitlam, Port Moody, Maple Ridge, Richmond, Surrey, and Delta, BC.
To place an order at QS Fencing, visit http://www.qsfencing.ca or call (604) 345-5145.