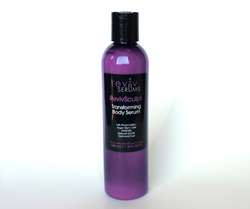 RevivSculpt is a great example of innovative, thoughtful prototyping in cosmetic chemistry." - Dr. Sarah Chisolm, Atlanta-based dermatologist.
SAN FRANCISCO CA USA (PRWEB) June 10, 2015
RevivSerums.com, a San Francisco-based global leader in cosmetic chemistry innovation, introduces a first-of-its-kind body serum, RevivSculpt™ Transforming Body Serum.
A unique multi-action intensive formula, RevivSculpt reduces the appearance of sags & wrinkles, calms irritation, and firms the skin for a visible lift. Genuine diamond dust works subtly to manipulate light and create a dramatically enhanced "soft focus" effect that blurs imperfections.
"RevivSculpt is a great example of innovative, thoughtful prototyping in cosmetic chemistry," said Dr. Sarah Chisolm, Atlanta-based dermatologist. "There is strong demand for a product that addresses the intended target concerns: sun damage, skin dimpling and nodularity associated with adiposis edematosa (cellulite), wrinkle blurring, skin irritation and body odors."
In a 21-day, 17-person consumer study of RevivSculpt, over 85% of consumers tested noted a reduction in the appearance of stretch marks, dimpled skin & skin roughness, 72% of testers also saw a reduction in the appearance of age spots and discolorations, and 90% agreed that it made their skin more soft or smooth.
While typical body lotions can hydrate skin and help temporarily relieve symptoms, the results are often superficial and can mask underlying problems. RevivSculpt serum targets skin damage, proper skin barrier functioning, and a range of other benefits.
RevivSculpt incorporates a number of novel cosmetic ingredients sourced worldwide, including:
PhytoCellTec™ Argan, based on the stem cells of the argan tree. According to its developer, Mibelle AG Biochemistry Switzerland, it is the very first cosmetic active demonstrating proven efficacy on human dermal stem cells. Studies show that PCT Argan can produce a tightening of dermal connective tissue and a much smoother dermis-hypodermis junction.
SLIMEXIR® is a slimming and anti-cellulite compound that visibly and measurably refines the silhouette. This fast-acting body toner has been shown to increase breakdown of fats by 60%, and inhibit lipid accumulation in adipocytes by 55%, and provides a tightening film on the skin.
Genuine diamond particles manipulate incident light by converting invisible UV light to blue light (photoluminescence) and selectively scattering favorable blue and green light. The particles settle into fine lines and sags to decrease the appearance of wrinkles and give skin the glow of youth, not just the sheen of oil.
Unisooth EG-28 is an innovative bioactive complex blend extracted from oak leaves and green tea and is shown in studies to rapidly reduce irritation in as fast as 15 minutes, reduce trans-epidermal water loss (TEWL), and reduce red and blue color components of skin.
Fluidipure 8G™ fights unpleasant body odors, calms skin, restores the skin's natural pH acidic mantle, decreases the production of sebum, and aids in limiting the proliferation of microorganisms on the skin.
RevivSculpt debuts at an introductory price of $44 for a limited time, a $15 savings off its retail price of $59. It is available immediately at RevivSerums.com with flat-fee shipping.
###
Tags: #RevivSculpt #bodyserum #cellulite #stemcells #TEWL #diamond #bodyserum #bodylotion #skincare