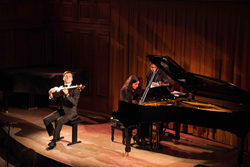 The Sorbonne is a sacred place of knowledge and intercultural exchange in France, so what better place to host a concert featuring the fusion between classical and Azerbaijani musical traditions?
Paris, France (PRWEB UK) 10 June 2015
Azerbaijani classical pianist Saida Zulfugarova, who is no stranger to the stage of the Sorbonne, has duetted with Sahib Pashazade – a leading exponent of the Azerbaijani tar – to dazzle more than 200 Parisian musical connoisseurs with a concert entitled Les Traditions en mode classique. The concert took place on 8 June in the historical Amphitheatre of La Sorbonne, named after Cardinal Richelieu, its most prominent student and later headmaster.
The concert was jointly organised by the Cultural Services of La Sorbonne University, the Azerbaijani Embassy in France and the French office of The European Azerbaijan Society (TEAS), based upon an initiative masterminded by Ms Saida Zulfugarova.
Opening the concert, Marie-Laetitia Gourdin, Director, TEAS France, commented: "Our goal is to work towards the rapprochement of Azerbaijan with European nations, and what better path than through music? Azerbaijan is a country at the gates of the EU, located in the South Caucasus, and has been independent for 24 years, following the fall of the USSR. This is a very young country, with major energy resources of strategic importance to the EU.
"Beyond that, Azerbaijan is a country with a rich culture that aspires to be significant on the regional and international scene. Azerbaijan is a member of many international bodies, including the Council of Europe since 2001, and is part of the EU Eastern Partnership. It is about to host the Baku2015 European Games from 12–28 June 2015."
She highlighted: "France has a particularly important place in the hearts of Azerbaijanis, who have remained Francophile since the visit of author Alexandre Dumas to the Silk Road. France was the second country to recognise the second independence of Azerbaijan in 1991. France is also an OSCE Minsk Group Co-Chair country, tasked with established a negotiated peace in the ongoing Armenian–Azerbaijani conflict over Nagorno-Karabakh."
Concluding her speech, Mrs Gourdin said: "The Sorbonne is a sacred place of knowledge and intercultural exchange in France, so what better place to host a concert featuring the fusion between classical and Azerbaijani musical traditions?"
In his speech, Ayaz Gojayev, First Secretary, Azerbaijani Embassy in France, welcomed the audience in the name of H.E. Elchin Amirbayov, Azerbaijani Ambassador to France, and spoke of mugham, the traditional music of Azerbaijan, that has been practised for many centuries. He also spoke of the birth of Azerbaijani classical music, the father of which was composer Uzeyir Hajibeyli. Mr Gojayev particularly noted the role of the Heydar Aliyev Foundation, presided over by Mrs Mehriban Aliyeva, First Lady of Azerbaijan, in promoting Azerbaijani music, not only in France, but also across the world.
Les Traditions en mode classique is the first collaboration on the Parisian stage for piano and tar, a traditional Azerbaijani instrument, which has been included on the UNESCO Intangible Cultural Heritage list."
Following the concert, Sonia Mendieta de Badaroux, Former President of the Executive Board of UNESCO, and Member of the Association of Friends of Azerbaijan, wrote: "We would like to congratulate you most sincerely for the extraordinary and wonderful concert… we had the privilege of listening to the great pianist Saida Zulfugarova and Sahib Pashazade, performing on a traditional instrument acknowledged as part of Intangible Cultural Heritage by UNESCO. Thank you – Azerbaijan has a golden mine of artists – and we are discovering this by virtue of the collaboration of between TEAS and the Embassy of Azerbaijan in France."
The audience included Hedva Ser, UNESCO Artist for Peace; Johan Schitterer, French Ministry of Foreign Affairs; representatives of the diplomatic community; students and artists.
Born in Baku, pianist Saida Zulfugarova began her musical studies at the age of seven years. She studied at the Uzeyir Hajibeyli Academy of Music and is qualified as a piano teacher and concert master. Winner of many national competitions, Ms Zulfugarova obtained a degree and a Masters in Musicology at the University Paris-Sorbonne Paris IV, with a thesis devoted to Azerbaijani composer Kara Karayev. She became a professor at the Conservatory Pauline Viardot in Provins and has obtained a State Diploma as a Piano Teacher in France.
Also born in Baku, Sahib Pashazade, is a graduate and a professor at the National Conservatory of Azerbaijan. Today he is a leading soloist in the Azerbaijani National Orchestra of Traditional Instruments. Sahib is winner of many musical awards and is an internationally recognised artist.
These two diverse instruments performed duet arrangements of Astor Piazzolla's languorous 'Oblivion', Georges Bizet's evocative 'Carmen Overture' and Vittorio Monti's exhilarating 'Czardas'. They also played some works from the Azerbaijani classical repertoire, including Farhad Badelbeyli's 'Shusha' and Ramiz Rzaev's 'Chahargah Rhapsody'. Ms Zulfugarova concluded with Beethoven's Sonata No.17 'The Tempest' and Liszt's 'Grande Etude Campanella', and the concert received a standing ovation.
© Photo: Philippe Afantchawo