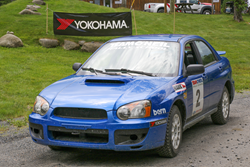 Partnering with Yokohama will make a tremendous difference in our training capabilities. Due to our variety of surfaces and the vehicle types we use, we needed a partner who had high quality tires for snow, mud, dirt, asphalt, and off-road. -Tim O'Neil
(PRWEB) June 12, 2015
Team O'Neil Rally School, situated on 550+ acres in Dalton, NH with dozens of miles of varying road conditions, brings people from all over the world to train at its road-handling facilities. Yokohama Tire produces high quality tires for all road conditions. Recognizing this synergy between Team O'Neil's needs and Yokohama's expertise, Team O'Neil Rally School has partnered with Yokohama Tire to equip its all of its cars with a product line of tires that is equally as vast as its road conditions. This partnership will enable Team O'Neil Rally School to offer its students the optimal tires for each of its training experiences.
Chris Cyr, general manager of Team O'Neil Rally School, believes the school's training programs are most effective when they keep students on the edge of grip and Yokohama provides the best tires for the school to deliver that experience. "Anytime we work with any business we look for a partner, not a sponsor. When it comes to tires - Yokohama Tire is the best partner out there. We have very specific tire needs here at the Rally School and Yokohama Tire has the ability to deliver on all of them. We are looking forward to a long relationship."
"Yokohama Tire Corporation is pleased to partner with Team O'Neil Rally School as its official tire supplier. As Team O'Neil is a premier driving school with a breadth of vehicles, terrain and instructional opportunities throughout the year, students have the opportunity to drive on a wide variety of Yokohama's product line. This will give drivers a truly unique, first -hand experience to understand the benefits that are incorporated into our Yokohama product line," said Duane Sampson, manager for Yokohama Motorsports.
Owner and founder of Team O'Neil Rally School and five-time Rally Champion Tim O'Neil has used Yokohama Tire during his professional rally career and is looking forward to enhancing the training possibilities at the rally school with this partnership. According to O'Neil, "Partnering with Yokohama will make a tremendous difference in our training capabilities. Due to our variety of surfaces and the vehicle types we use, we needed a partner who had high quality tires for snow, mud, dirt, asphalt, and off-road. Coupled with its motorsports history and the Rally School's racing focus, it made it easy to work with Yokohama."
Team O'Neil is widely recognized within the rally racing community as one of the most successful motorsports brands in the industry. It has dominated the two-wheel drive Rally America Championship for nearly a decade, including the 2014 title, securing the points championship with two events still remaining on the schedule. The Team O'Neil Rally has been teaching advanced driving techniques to race champions from almost every motorsports discipline, military and security personnel, and the general public since 1997. It is considered the premier rally racing school in the U.S.
For more information about Team O'Neil Rally School, visit its website at http://www.teamoneil.com, or social media sites at Facebook, Instagram or Twitter, or call 603-444-4488.