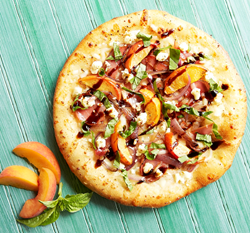 "We have modernized the way people order and eat pizza," said Matt Andrew, CEO of Uncle Maddio's.
Atlanta, GA (PRWEB) June 12, 2015
Uncle Maddio's Pizza Join t will open its first location in Rogers, Arkansas, on June 12, 2015. In celebration, the restaurant will host a grand opening on Saturday, June13th and will serve free 9-inch, build-your-own, three-topping pizzas to guests in line from 11 a.m. to 2 p.m. Uncle Maddio's is located at 2012 Promenade Boulevard, Rogers, AR 72758.
In addition to free pizza on June 13, 2015, the restaurant sponsored the Color Run on Saturday, June 6th that benefits the Mercy Hospital YMCA. Uncle Maddio's passed out free bracelets and t-shirts to the participants of the run. Uncle Maddio's will continue to sponsor Mercy Hospital YMCA throughout the year. They will also host a ribbon cutting event with the Chamber of Commerce on June 25, 2015, with a lunch for Chamber members following the event.
Uncle Maddio's is famous for its customized artisan pizzas and salads. Guests can choose their own pizza toppings or select a chef-inspired signature pizza, which includes options like the Steak & Blue, Southwest Baja, or Spicy Italian pizza. Restaurant guests interact with their pizza maker and watch their pizzas made right before their eyes. Pizzas are baked in about six minutes and cost only about $9 for any three-topping pizza.
"We can't wait for local Rogers' friends, families and office workers to try our pizza," said Sivan Aballi, Uncle Maddio's franchisee. "Rogers is a booming community and we are thrilled to be the first fast-casual pizza place in town." The Rogers location is the second Uncle Maddio's location for the state of Arkansas. The first restaurant opened in Jonesboro, Ark., in 2014. The Rogers, Ark., location is owned and operated by Sivan Aballi of Rogers, an experienced multi-unit fast casual restaurant operator.
"We have modernized the way people order and eat pizza," said Matt Andrew, CEO of Uncle Maddio's. "Customization is the way forward, and we think the citizens of Rogers and the surrounding communities will love the Uncle Maddio's dining experience."
Uncle Maddio's offers premium ingredients and more customization than any other fast-casual pizza chain. Guests choose from one of three crusts, including a gluten-free option, and 48 toppings including six sauces, 27 vegetables and 15 meats. More than 30 menu items are made fresh daily in-house. For those with dietary restrictions, Uncle Maddio's serves up a huge selection of healthful options such as whole wheat and gluten-free crusts, hormone-free chicken, fresh local vegetables, Daiya vegan cheese and organic greens. Create-your-own signature salads round out the Italian-style menu. The restaurant also offers a selection of craft beers and wine.
For more information on Uncle Maddio's Pizza Joint, visit http://www.unclemaddios.com. Interested franchisees can visit http://www.unclemaddios.com/franchise-info/ or contact Roger Wagerman at franchising@unclemaddios.com.
About Uncle Maddio's Pizza Joint. With more than 1,000 Pizza Makers making more than 2,000,000 gourmet pizzas a year, Uncle Maddio's Pizza Joint is category leader of the create-your-own premium fast casual pizza restaurants. Operating 34 locations in 14 states, Uncle Maddio's opened 10 restaurants in 2014 and earned a 300 percent growth rate over the last three years. With more than 240 units in development, Uncle Maddio's is projected to double in size in 2015. Uncle Maddio's pizzas are customizable, made-to-order, and served up fast for under $9. With four pizza sizes; three types of crusts, including gluten-free; six sauces and 48 fresh toppings, many vegan, organic, and hormone-free, Uncle Maddio's has the freshest and largest menu in the category. The restaurant's unique fast bake ovens offer the most throughput in the industry and can produce 200 pizzas per hour. Uncle Maddio's also serves gourmet salads - all prepared with locally sourced ingredients (when available) and salad dressings and 30 other menu items that are made on-site daily. Uncle Maddio's 'Served with Love' philosophy and restaurant is for everyone -children and families, college students, the young and the young at heart - and serves the guests and communities it is a part of. Based in Atlanta, the Uncle Maddio's management team has 50 years combined experienced in the fast casual category. Markets are available nationwide for franchise partner development including Texas, Ohio, and New Jersey.
Photos: Click Here or HERE
Media Contact: Ellen Hartman (678) 399-3335