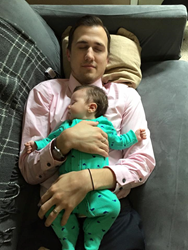 We are very excited for Father's Day weekend this year. We are hoping to share in our excitement with our patients. We appreciate them so much and we just want to show that appreciation
Simpsonville, SC (PRWEB) June 12, 2015
Dr. Michael Hamstead is looking forward to Father's Day weekend this year for many reasons. With the recent birth of his 3 month old daughter, this will be the first year that he personally will be honored as a father on Father's Day. His daughter Evelyn was born on March 7th and she is the first child of Drs. Hamstead. Dr. Michael will be celebrating his birthday turning 30 years old over Father's Day weekend as well.
Drs. Hamstead are the owners of AlignLife of Simpsonville and will be putting on a Father's Day Patient Appreciation Day on Monday June 22nd. There will be discounts on products such as Aceva nutritional supplements and cervical pillows as well as any chiropractic supplies. AlignLife will provide food and fun for all of the guests. As a Father's Day gift to their community AlignLife Simpsonville will be offering free exams and consultations to new patients until their schedule is filled for June 22nd as part of the patient appreciation day.
Additionally, Drs. Hamstead are donating their time at their local YMCA on Saturday June 20th doing free chair massages and screenings for the members as part of a Father's Day member appreciation day that the YMCA is hosting. The goal of Dr. Allie Hamstead and Dr. Michael Hamstead is to help as many people as possible reach their maximum health potential. Father's Day is a great time for people, not just dads, to start taking better care of themselves.