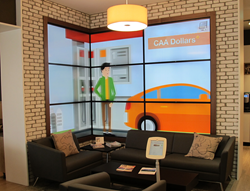 "Several customers have already commented about products and services they had not known about previously!"
Burlington, ON (PRWEB) June 11, 2015
CAA South Central Ontario (CAA SCO) discusses the success of their new digital signage concept store in Burlington, after their grand opening in April.
Since installing digital monitors in 34 locations throughout 2013, CAA SCO decided to implement an even more engaging digital experience at their Burlington location. This new concept store design consists of three 70'' banner screens in a video wall, a focal point that features a 9-screen wrap-around video wall, and another 5 vertically-oriented screens that are used throughout other key areas of the store as digital posters. As described by Laura Santlal, Director of Marketing at CAA SCO, "the digital walls create an engaging and life-sized feel, giving customers the impression that they are a part of the imagery as they walk through the store."
In spite of the impressive technical capacity and near-futuristic aesthetic brought about by the new digital environment, the CAA SCO team finds working with the new technology has been quick and easy. Laura states, "we chose to showcase a series of stills either for an offer or a call to action, seen in between videos. With the ADFLOW content management platform, our designers can modify our content very efficiently. We have been manipulating all of our files so that we can display an impressive compilation with messaging that truly engages our audience."
These upgrades have thus far proved very exciting to customers. Since the new concept program launched on March 9, 2015, Karen Vothknecht, CAA Burlington Store Manager, describes the experience, "we are at the 'wow' stage, where customers are in awe of the technology and the change in environment." And, most importantly, the digitally-delivered messages are being received. "Several customers have already commented about products and services they had not known about previously!"
About CAA SCO:
For over a hundred years, CAA has been helping Canadians stay mobile, safe and protected. CAA South Central Ontario is one of nine auto clubs across Canada providing roadside assistance, travel, insurance services and member savings for 2 million members.
About ADFLOW Networks
Headquartered in Burlington, Ontario, Canada with U.S. offices in Chicago, IL, ADFLOW Networks is an industry leader in delivering award-winning digital signage, interactive and marketing solutions to some of the most recognized retailers and brands in North America, all powered by ADFLOW's Dynamic Messaging System™, using patented AdSecure™ technology. Since 2000, ADFLOW has offered its turn-key solution featuring its software platform together with comprehensive services that help companies reshape their customer experiences. From store design to screen placement, hardware selection, installation, and content services, ADFLOW has become a trusted partner to many Fortune 500 companies. As a result, ADFLOW has grown to be one of North America's leading Digital Signage and Interactive Kiosk solution providers. http://www.adflownetworks.com
For more information contact:
Gary Davies, ADFLOW Networks
t: 905.333.0200
e: gdavies(at)adflownetworks(dot)com