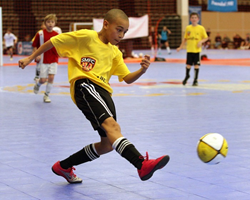 Our multi-patented BounceBack playing surface with ShowckTower technology is a state-of-the-art engineered safe play sport surface.
Anaheim, California (PRWEB) July 15, 2015
Set your GPS and head to Anaheim this summer for Disneyland's 60th Anniversary, but first, make sure to schedule a stop at the Anaheim Convention Center for the 30th Annual U.S. Futsal National Championship, July 17-19, 2015. As the oldest, biggest and most prestigious futsal event in the United States, the Futsal National Championship will welcome athletes from across the nation to compete for the title of National Champion.
Participating teams range from the under twelve (U-12) to senior level play for both men and women. Over 250 teams will be competing on 8 qualifying and championship courts, comprised of over 70,000 square feet of SnapSports® exclusive patented Indoor BounceBack®ShockTower® sports surfacing. Chosen for its superior traction control, high performance, and top rated safety features; SnapSports is the industry leader in modular athletic surfacing and a proud partner of U.S. Futsal.
"Not only are we competing on an athletic surface that exhibits superior ball play, we are providing the safest sports flooring available. SnapSports® has manufactured a high performance sports floor with an incredible level of protection from injury upon player impact that U.S. Futsal® is proud to endorse," said Alex Para, CEO, USFF.
The game of Futsal (five-a-side soccer) is played by over 100 countries around the world and is "the way the world plays indoor soccer". Futsal is the international form of Indoor Soccer approved by the Fédération Internationale de Football Association (FIFA). Since its founding in 1980, the United States Futsal Federation has grown to an organization with over 40,000 members and has governed the sport of Futsal in the United State since 1981. As the game of Futsal continues to grow, SnapSports is excited to be a partner in the progress.
"Our multi-patented BounceBack® playing surface with ShockTower® technology is a state-of-the-art engineered safe play sport surface. The understructure performs as a high-impact shock absorber that reduces fatigue and injury to athletes during aggressive play, while at the same time providing the consistent resiliency needed in this fast-moving sport. We are proud to once again be chosen as the only approved sport surface able to meet the high-performance demands of Futsal competition by the USFF," said Jorgen Moller, CEO of SnapSports.
SnapSports is recognized as the global leading manufacture and supplier of premium indoor modular sports surfacing and outdoor athletic courts for both the residential and commercial marketplace. SnapSports manufactures 24/7 in their 150,000 square foot ISO 9001:2008 Quality certified facility in Salt Lake City, Utah. SnapSports is the Official surface of The United States Futsal Federation, AAU Basketball Jam On it, AAU All Under one Roof, The Big South, NBA Jam Session, NBA Nation, 2015 NBA House, and USA Team Handball. SnapSports is an official FIBA Technical Partner and has been a proud partner of The Special Olympics, The National Veterans Wheelchair Games, The Volleyball Festival, Gus Macker 3X3, The Vanilla Ice Project, World Police & Fire Games and The National Collegiate Roller Hockey Championship to name a few. SnapSports surfaces are made in the USA and played on around the world.