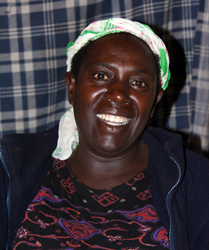 I am grateful to God because not everyone was as lucky as me to get treatment.
Kansas City, KS (PRWEB) June 10, 2015
When Nancy started feeling sick, her neighbors in Nairobi's Kibera slum immediately suspected what was causing her suffering: cholera, the dreaded bacterial infection associated with contaminated water.
They knew because a neighborhood boy had recently died of it. They rushed Nancy to a hospital right away.
The neighbor's decision likely saved Nancy's life. Early treatment with inexpensive IV fluids helped her survive.
Nancy is one of more than 3-thousand cases of cholera reported in Kenya over the past several months, in part due to heavy rains that wash contaminated water into the slums. News reports say 65 people have died.
The outbreak is growing. "There was a ward set aside for cholera patients," Nancy said. "There were many of us and it was the onset of the outbreak. The situation is now worse. I went visiting a friend and I was shocked to see so many people in the ward."
It's easy to see how cholera could run rampant in a place like Kibera. Contaminated water seems to be everywhere. In Nancy's neighborhood homes do not have a source of clean water; people must pay to use a community latrine. Nancy points to a street vendor roasting meat near open sewage that runs right through the streets.
Nancy's son and grandson are sponsored through Unbound, an international humanitarian organization working in 20 countries with more than 25,000 people in Kenya alone. So far, Nancy is the only case of cholera to be diagnosed among sponsored members. But social workers and project staff are not waiting for more cases before they act.
"We are conducting home visits so that we might know exactly how bad the situation is," Unbound social worker Mohamed Hassan said.
And as the Unbound team assesses the health of sponsored members, they are spreading the word about health, good hygiene and the need to act fast when symptoms of dehydration and diarrhea develop.
There is no team of health professionals to alert the community and no media campaign that could reach the people who need it most.
Staff has turned to a proven source to get the word out quickly and efficiently: the mothers of sponsored children. A key part of the Unbound program is to help marginalized groups come together to create solid communities. Mothers are at the heart of the effort to combat all kinds of problems, including the spread of cholera.
"When they meet, in SMGs (support mothers groups) they often talk to each other about it, since they hold meetings in each other's homes," Hassan said.
Nancy is one of those mothers, using her experience to help educate neighbors and friends about hand-washing and the need to boil water. She is also educating others about the dangers of street food that can be undercooked or prepared in unhealthy conditions because Nancy believes food cooked in the open caused her illness.
"I am grateful to God because not everyone was as lucky as me to get treatment," Nancy said.
She doesn't want to see any more friends and neighbors suffer or die from a preventable disease.
About Unbound:
Unbound is the largest nonprofit organization in Kansas with more than $120 million in annual revenue. Unbound works side by side with people of diverse faiths in 20 countries, bringing people together to challenge poverty in new and innovative ways.
Unbound distributes direct aid as quickly and efficiently as possible to people who need it. 92.5 percent of Unbound's expenses go toward program support.
###