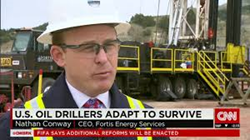 I think we're going to start to see a lot more action as the price of oil stabilizes in the $60 to $70 range. said Nathan Conway.
(PRWEB) June 15, 2015
Nathan Conway, CEO of Fortis Energy Services tells CNN's Richard Quest how his service company has been able to navigate the downturn in North Dakota oil prices by implementing efficient and lean practices.
To view interview click here:
 
http://www.cnn.com/videos/world/2015/06/02/oil-showdown-feisty-frackers-quest-pkg.cnn 
 
About Fortis
 
Fortis Energy Services, Inc. is a leading oil and gas well service company in the USA, providing oil and gas well services throughout the production life cycle. Fortis' safety culture sets them apart as a leader in the industry. Quality people and quality work contribute to Fortis' exceptional growth rate. A well-maintained fleet combined with highly experienced professionals has enabled Fortis to establish strong customer relationships and an excellent safety record.
 
For Info contact: Nancy Thompson uptownpro@hotmail.com