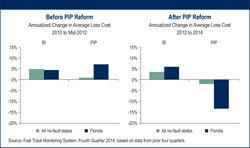 Malvern, PA (PRWEB) June 11, 2015
Recent reforms in Florida's no-fault auto insurance coverage appear to be containing costs among the first-party personal injury protection (PIP) claims. However, a new white paper from the Insurance Research Council (IRC) raises concerns that rather than reducing overall costs in the injury compensation system, these reforms may merely be "squeezing the balloon" and transferring claimed losses from first-party coverages to third-party coverages.
House Bill 119, passed by the Florida State Legislature in May 2012, introduced several cost-containment and fraud-fighting measures to combat rapidly rising claim costs in the PIP system. According to data from the Fast Track Monitoring System, the average PIP claim payment per insured vehicle, which increased 7 percent annualized in the year and a half before the passage of HB 119, subsequently dropped 13 percent annualized through the end of 2014. Government and industry measures of PIP claim fraud have also declined.
However, loss cost data show a very different trend among third-party bodily injury (BI) claims. The average BI claim payment per insured vehicle increased 6 percent from mid-2012 to the end of 2014, double the growth rate among BI claims in all no-fault states over the same period. Several features of the Florida insurance system, such as low BI policy limits, high claim frequency rates in BI, uninsured motorist (UM) and underinsured motorist (UIM) coverages, and the threat of third-party bad-faith lawsuits, may complicate the effectiveness of first-party reforms in reducing overall costs.
"While the news regarding PIP claim trends in Florida has been encouraging, it would be a mistake to ignore the impacts on third-party coverages and assume that HB 119 has fixed the auto injury system in the state," said David Corum, vice president of the IRC. "Many claim costs are being transferred to the third-party system, where dollars spent on BI, UM, and UIM claims, compared with those in first-party claims, can be more easily leveraged into huge payoffs for participants intent on manipulating the system."
The white paper, Florida's Auto Insurance Reform: Liability Trends Point to Additional Concerns, is available as a free download from the IRC website at http://www.insurance-research.org.
###
NOTE TO EDITORS: The Insurance Research Council is a division of the American Institute For Chartered Property Casualty Underwriters (The Institutes). The Institutes are the leader in delivering proven knowledge solutions that drive powerful business results for the risk management and property-casualty insurance industry. Institute knowledge solutions include the CPCU designation program; associate designation programs in areas such as claims, risk management, underwriting, and reinsurance; introductory and foundation programs; online courses; research; custom solutions; assessment tools; and continuing education (CE) courses for licensed insurance professionals and adjusters through its CEU business unit. The IRC provides timely and reliable research to all parties involved in public policy issues affecting insurance companies and their customers. The IRC does not lobby or advocate legislative positions. It is supported by leading property-casualty insurance
organizations.¬