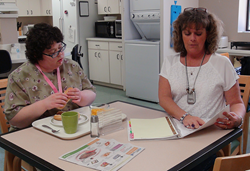 I love working with my students. It makes me feel so good to be able to teach them how to live independently.
Daytona Beach, FL (PRWEB) June 25, 2015
Cheryl Ollis was born deaf but, when she was five years old, surgery helped bring back some of her hearing. She also had difficulty with night vision but didn't realize she had a vision problem until she was diagnosed with Ushers Syndrome and Retinitis Pigmentosa when she was 28 years old.
After losing her job, Cheryl came to Vocational Rehabilitation and the Division of Blind Services to help her get the guidance and education she needed to re-enter the working world. Vocational Rehabilitation helps people with disabilities get or keep a job.
Cheryl, and the agency staff who helped her along the way, share her story from being let go because her vision had deteriorated to finding her dream job in this VR video located at http://youtu.be/kFJdRX-knn4.
About Vocational Rehabilitation
Florida's Vocational Rehabilitation (VR) is a federal-state program committed to helping people with disabilities become part of America's workforce. Our employer-focused website, http://www.FLJobConnections.com, allows businesses to search at no charge for employees who are ready to go to work, as well as to post available jobs. VR has 89 offices across Florida, and last year helped 7,214 Floridians with significant disabilities find or keep a job. For more information about VR and its services, call (800) 451-4327 or visit http://www.Rehabworks.org.