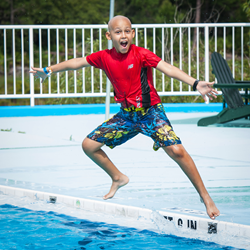 Eustis, Florida (PRWEB) June 10, 2015
Camp Boggy Creek is excited to announce that Summer Camp officially opened on Monday, June 8th and the theme for the summer is "Be Brave. Be Kind. Be You." During the eight weekly summer camp sessions, over 1,000 children with serious illnesses will come to Camp where they can escape the struggles of their everyday life and just be kids.
Co-founded in 1996 by actor/philanthropist Paul Newman and General H. Norman Schwarzkopf, Camp Boggy Creek is a year-round medical camp for children with serious illnesses. Campers and their families attend Camp at no cost to them. The camp is entirely funded by generous donations from individuals, corporations, foundations and healthcare partners.
Since Camp opened, Camp Boggy Creek has served over 65,000 children and family members through activity-packed weekly and weekend camp programs. The Camp offers children with serious illnesses the chance to catch their first fish, go horseback riding or climb our ropes tower, all while making new friends. Beyond boundless fun, Camp Boggy Creek provides fellowship. Children can spend time with others who are just like them and share their life-experiences, which serves as a reminder that they are not alone. To view our complete Summer Camp schedule, please visit our website at http://www.campboggycreek.org.
###
About Camp Boggy Creek
Camp Boggy Creek offers week-long summer sessions and family retreat weekends at no cost to the children or families. Located in Eustis, Florida, the 232-acre nonprofit serves children ages 7–16 that have been diagnosed with chronic or life-threatening conditions. Camp Boggy Creek is a proud member of SeriousFun Children's Network. Learn more by visiting campboggycreek.org.