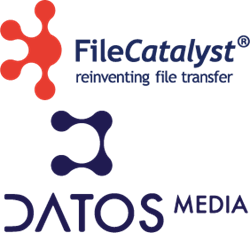 Our mission is providing technology that enables the most efficient workflows for our customers, which is one of the reasons we chose to partner with FileCatalyst
Ottawa, Canada (PRWEB) June 11, 2015
Unlimi-Tech Software, Inc., an Emmy® Award winning pioneer in managed file transfers and creator of FileCatalyst, announces today a value added reseller agreement with Madrid based Datos Media Technologies has resulted in FileCatalyst being used by the Basque Public Television (ETB), the Regional Public Television for the Basque Country in Spain.
Datos Media Technologies has partnered with FileCatalyst to provide the latest in broadcast technology to their media industry clients looking to increase the speed of file transfers without compromising reliability or security. The FileCatalyst platform is immune to packet loss and latency while transferring large files over unreliable bandwidth connections or vast geographical distances, a necessity for Datos Media's customers who often collaborate globally. While traditional file transfer methods like email and FTP are unable to keep up with increasingly larger file sizes, FileCatalyst ensures the transfer of any file, of any size, at speeds of up to 10 Gbps.
Euskal Telebista (ETB, Basque Television), is the main brand of Euskal Irrati Telebista (EITB, Basque Radio-television), the name of the Basque Country's public broadcast service. ETB regularly receives large media files from production companies, as well as journalists who are on location. Previously, ETB was using an unsupported legacy product to meet their file transfer needs. Deciding it was time to upgrade, ETB selected an all-inclusive 50Mbps license after completing extensive testing against traditional FTP transfers. As a result of this implementation, ETB has noticed a major speed improvement for the delivery of their files.
"We are proud to be able to offer FileCatalyst to ETB," said Tomas Nielsen, Managing Director at Datos Media. "Our mission is providing technology that enables the most efficient workflows for our customers, which is one of the reasons we chose to partner with FileCatalyst."
"Partnering with Datos Media allows us to make FileCatalyst's solutions available to a wider customer base," said Alan Atkinson, Unlimi-Tech's Vice President of Business Development. "We are very excited that Datos has been able to provide ETB with our patented file transfer solution."
About Unlimi-Tech Software, Inc.
Located in Ottawa, Canada, a pioneer in managed file transfers, Unlimi-Tech is the creator of FileCatalyst, a world leading accelerated file transfer solution. Founded in 2000, the company has more than one thousand customers in media & entertainment, energy & mining, gaming, and printing, including many Fortune 500 companies as well as military and government organizations. FileCatalyst is a software platform designed to accelerate and manage file transfers securely and reliably. FileCatalyst is immune to the effects that latency and packet loss have on traditional file transfer methods like FTP, HTTP, or CIFS. Global organizations use FileCatalyst to solve issues related to file transfer, including content distribution, file sharing, and offsite backups. To learn more visit filecatalyst.com or on Twitter @FileCatalyst.
About Datos Media
Based in Ciudad de la Imagen in Mardrid, Datos Media Technologies serves the broadcast and multimedia production market with technology, integration and expertise in workflow implementation. Datos Media delivers a complete range of services for the total execution of audiovisual projects from the pre-sales consultancy, to the support and maintenance, through to the supply and integration of the technology. To learn more, please visit http://www.datosmedia.es.