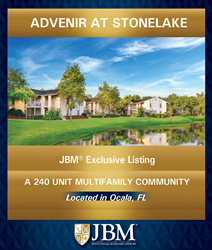 Tampa, FL (PRWEB) June 15, 2015
JBM® launched to market Advenir at Stonelake, completed in 1986 and situated on a 15.75 acre site with two central lakes, the Property offers an investor the opportunity to acquire a solid, concrete block multifamily community in an active area of Ocala and walking distance to the College of Central Florida. Total enrollment at the main Ocala Campus is in excess of 13,100 with a faculty of over 450. The presence of Interstate 75 and Florida's Turnpike also makes all points of central Florida easily accessible linking the area to larger municipalities including Gainesville to the north and Orlando to the southeast and the Tampa Bay area to the south.
The Property is a prime candidate for a value-add strategy. With a strategic interior unit upgrade program and additional refinements to the exterior and common areas, the community could be re-positioned to be a prime competitor with newer vintage communities in the market. The location is not only walking distance to the College of Central Florida, but minutes from the Paddock Mall and the Market Street at Heath Brook lifestyle center along SW College Road/S.R. 200 housing Dillard's, Dick's Sporting Goods and Barnes & Noble.
About JBM® Institutional Multifamily Advisors
JBM® Institutional Multifamily Advisors is the most reliable source of brokerage services in the institutional multifamily asset and investment industry with Florida offices located in Tampa, Orlando, and Naples. JBM® specializes in the sale of high-rise, mid-rise and garden style apartment communities throughout the Southeast United States and focuses exclusively on asset disposition services, capitalization and recapitalization of existing and merchant development opportunities of large apartment type portfolios and singular assets for domestic and foreign institutional, private, national and regional clientele.
The firm's collective team efforts have exceeded $9 Billion and over 110,000 apartment units listed, marketed and sold. The firm delivers a strong legacy of excellence in representation and the most effective investment sales platform throughout the Southeast United States, meriting Jamie May and JBM® as a trusted leader in the multifamily industry.
If you would like more information about this property or to schedule an interview with Jamie May, Chairman & CEO or Eddie Yang, Principal and Executive Director please, contact Claudia Raines at 813.812.5003 or email. To learn more, please visit: JBM.com