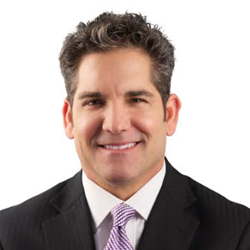 "Success is your duty, obligation and responsibility." - Grant Cardone
The Pentagon, Washington, DC (PRWEB) June 11, 2015
Grant Cardone, top sales trainer in the world, has been asked to be a keynote speaker at the Pentagon during the Leadership Development Summit.
This summit, organized by American Dream U, has top entrepreneurs speaking to soldiers to share their stories of inspiration and motivation to educate and inspire. This amazing event is free for Military, Military Spouses and Veterans who want to learn and develop leadership skills and build character.
Grant Cardone's slogan, "Success is your duty, obligation and responsibility," is directly in line with the deeply passionate and highly motivated mission of American Dream U.
The 2015 all-star entrepreneur lineup includes:

GRANT CARDONE, New York Times Best-Selling Author, Entrepreneur, Speaker
JOSH MANTZ, Tesla Motors
ALEX CHARFEN, Co-Founder, CEO Charfen Institute
CHARLIE HOEHN, Author, Marketer
JODY HALL, COO of MAC Presents
STEVE SIMS, Founder of Bluefish
JOSEPH KOPSER, CEO of RIDESCOUT, Veteran
GREG S. REID, Best Selling Author, Acclaimed Speaker
CRISSY PERHAM, Olympic Gold Medalist, Military Spouse
TREVOR SHIRK, Founder of Uncommon Human
"I love speaking to soldiers because they truly understand what it means to do WHATEVER it takes to accomplish a target. Soldiers provide freedom to me and my family everyday and I want to help them achieve the financial freedom they deserve." – Grant Cardone
You can sign up for the event at American Dream U's website.
About Grant Cardone:
Grant Cardone is a New York Times bestselling author, an international speaker, business innovator and has written four books since the 2008 economic collapse.
Cardone owns multiple companies including Cardone Training Technologies, Inc., a software and technology business, a consulting company to Fortune 500 companies and Cardone Acquisitions, a national real estate company.
In September 2014, Grant Cardone launched Whatever It Takes Network a Grant Cardone TV Production. This new digital hub features 24/7 on-demand programming designed to offer success-minded individuals the insights they need to thrive in business and life.
----
Cardone On-Demand and Cardone University were released in 2010 and have become industry leaders for web-based sales training. These platforms offer comprehensive sales training and sales management courses online with over 1,100 segments of content broken down into actionable modules and curriculums.
Cardone's online sales training universities provide sales meetings, tests, reports and sales solutions for every selling situation imaginable. At the start of 2013 sales organizations, entrepreneurs, trailblazers and dominators have viewed and tested on over 10 million videos through these universities.
You can follow Cardone on Twitter @grantcardone or visit http://www.grantcardone.com/
About the Host:
American Dream U, created by Phil Randasso, is a non-profit organization that assists the military transitioning into civilian life. The program, taught by some of the world's best and most successful entrepreneurs, is designed to provide soldiers, airmen, sailors, marines, and coast guard personnel with the tools to obtain their dream jobs or start their own businesses.
Phil Randazzo, Founder of American Dream U & Nevada Benefits Corp, is currently writing, consulting, and developing a National Entrepreneurship and Coaching program called American Dream U, held at military bases around the country.
For further press information on Grant Cardone please contact Vaughn Reynolds:
Vaughn Reynolds – Public Relations
Vaughn(at)GrantCardone(dot)com
Cardone Training Technologies, Inc
Phone: 310.777.0255
Fax: 310.777.0256
Web: http://www.grantcardone.com