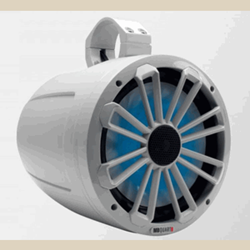 Drexel, Missouri (PRWEB) June 12, 2015
MB Quart is known for their thorough research, innovation, and great dedication to creating truly high quality home, car, marine and UTV audio systems. Side By Side Stuff is proud to introduce their new line of MB Quart products including speakers, subwoofers, amplifiers, and more.
MB Quart audio systems complete any summertime adventure. Shoppers will find a variety of products at Side By Side Stuff, compatible with most power vehicles and UTVS including Polaris Ranger and RZR's, Can Am, Kawasaki, Honda and Yamaha. Among the line, side by side enthusiasts will find the following products available for purchase:

Tower speakers in both 6.5" and 8" sizes, featuring illumination options.
10" powersport shallow mount 600 watt subwoofers, featuring illumination options.
Three powersport amplifiers featuring a variety of channel ranges.
A Bluetooth pre-amp controller that hooks to an amplifier and allows playing music from any Bluetooth-enabled device.
A wireless Bluetooth pre-amp controller with a box that hooks to the amplifier and a wireless Bluetooth controller that allows playing music from any Bluetooth-enabled device.
Two Bluetooth/AM/FM source units that allows listening to AM/FM channels or playing music from any Bluetooth-enabled device.
Summer is officially here and MB Quart has got just the side by side accessories to make summertime treks complete. Whether hitting the trails on a side by side, powering through the waters on a water craft, or cruising the open roads in a vehicle, great music is always the best accompaniment. Riders can now bring their favorite tunes along for the ride by shopping the MB Quart line at Side By Side Stuff.
About Side By Side Stuff
Side By Side Stuff is a division of Harper Cycle Works, LLC in Drexel, Missouri, offering the highest quality side by side accessories and parts. Since opening its doors in 2006, the company has been dedicated to providing exceptional service and affordable prices. Over the years, Side By Side Stuff has generated an impressive customer following based on the quality of work, excellent customer service and a true passion for the nature of their business. The mission of Side By Side Stuff is to express that level of customer support and authentic passion in every interaction with their customers. To learn more about UTV audio systems and other side by side parts, visit SideBySideStuff.com, or call 1-816-616-9946, Monday through Friday 9:00 AM – 5:30 PM CST.