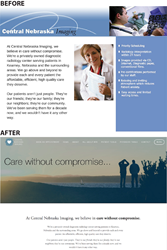 Going into it there, were a couple of things we wanted this new site to do for us...I think we accomplished that.
Kearney, NE (PRWEB) June 11, 2015
This week, Central Nebraska Imaging, a local radiology center, is debuting their brand new website. The website is a fresh and modernized version of CNI's old website. It comes equipped with a wide array of patient tools and physician resources that are guaranteed to improve user experiences.
By using CNI's new website, patients can now book appointments online, check insurance coverage, explore detailed pricing information, access and download patient forms and even submit longer forms online prior to their appointment. Physicians have access to referral forms and other downloadable resources that were previously only available onsite at the center.
In addition to the added tools and resources, the website also features a more robust canon of information, a mobile-optimized design and a more user-friendly interface. Patients can learn more about the MRI services and even take a tour of the open MRI!
"Going into it, there were a couple of things we wanted this new site to do for us," said Marcy Nichols, Regional Manager for Central Nebraska Imaging. "We wanted to make the website simple, informative, and user-friendly. But we also wanted to find a way to share some of those valuable resources with the Kearney Nebraska area patients and referring physicians. I think we accomplished that."
You can check out Central Nebraska Imaging's new website at http://www.cneimaging.com.
Central Nebraska Imaging is a privately owned diagnostic imaging center specializing in MRI. Founded in 2005 by Chris Christenberry, the center has been serving patients in Kearney and the surrounding areas for just over a decade now. Centered on patient care and affordable imaging, CNI is determined to make every patient experience a great one.