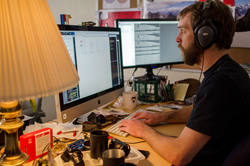 BOULDER, Colo. (PRWEB) June 15, 2015
SparkFun Electronics (http://www.sparkfun.com), a provider of parts, knowledge and passion for electronics creation, was awarded a top ten spot in the Online Trust Alliance's (OTA) 2015 Honor Roll (https://otalliance.org/HonorRoll) as one of the top trustworthy sites, after an audit of over 500 leading internet retailers. The award was announced June 3, 2015, at the Internet Retailers Conference and Expo (IRCE) in Chicago, Ill.
The Online Trust and Honor Roll Audit is a comprehensive evaluation of a site's and mobile applications best practices in brand and consumer protection, security and privacy. This annual comprehensive audit underscores the importance of continued monitoring of security and privacy practices and the risks of becoming complacent.
The OTA is a non-profit with the mission to enhance online trust while promoting best practices, innovation and self-regulation. The top 10 award, which SparkFun proudly shares with Living Social Inc., Netflix Inc., and other prestigious sites, celebrates these companies' commitment to best practices in security, privacy and consumer protection. This is SparkFun's second consecutive year on the annual Honor Roll.
"We live in a time when our personal privacy isn't so much eroding away as it is landsliding," said SparkFun Chief Operating Officer Trevor Zylstra. "I believe privacy is a fundamental right, and security is inseparably associated with it. I'm really proud of SparkFun for our strong and transparent stance on defending privacy and data security. We're thankful for the work the Online Trust Alliance is doing."
About SparkFun Electronics
Founded in 2003, SparkFun shares its passion by providing parts, knowledge, and innovation for those looking to explore the world of embedded electronics. It helps anyone discover their inner inventor and enables individuals to create their own electronics projects.
SparkFun currently offers more than 1,800 products, ranging from simple components, like capacitors and resistors, to GPS units and Bluetooth modules. The company employs 150 people and is based in Niwot, Colorado.
Find SparkFun on Twitter, Facebook, Flickr, YouTube, Instagram and Google+.
###