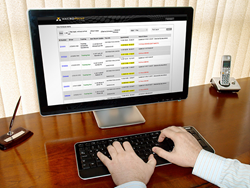 Cleveland, OH (PRWEB) June 11, 2015
MacroPoint, creators of patented freight tracking software designed to give 3rd party visibility into load status, today announced an enhanced integration with Real Time Freight, an extensive transportation management system (TMS) for shippers, brokers and carriers. The TMS partner is now including MacroPoint as an embedded feature delivering seamless, integrated freight tracking automation for mutual customers.
"Our deeper integration with MacroPoint freight tracking solutions provides additional transparency throughout our customer's freight network," said Trent Broberg, general manager of Real Time Freight, the provider of a SaaS, cloud-based freight management system for shippers, brokers, and carriers. "MacroPoint's industry leading track and trace functionality eliminates phone calls, automates visibility and simplifies resource allocation. Its functionality adds value to our customer relationships and we anticipate its use will grow considerably."
Activated from a driver's mobile phone, including flip phones, or existing in-cab ELD/GPS device, MacroPoint's patented location tracking software gives third parties load status and location visibility on their shipments. With MacroPoint, brokers, 3PLs and shippers now have the same real-time location tracking, on-time delivery monitoring, and arrival and departure notifications that GPS-enabled carriers have been utilizing for over two decades.
"MacroPoint is excited by the depth of this new integration with Real Time Freight, and we expect the clients they serve will be thrilled with it as well," said Glynn Spangenberg, general manager of MacroPoint. "Together with our integrated TMS partners, MacroPoint helps produce more profit per load without needing to invest in additional software, hardware or people.
About MacroPoint
Headquartered in Cleveland, Ohio, MacroPoint designs freight tracking solutions for shippers, brokers and 3PLs. Founded in 2009, MacroPoint's patented, automated load tracking software provides load location visibility to third parties. The 'pay per use' solution works on any cell phone, not just smart phones, and with existing in-cab tracking devices to provide real-time location tracking, on-time delivery monitoring, and arrival and departure notifications to third parties. Integrated with a wide range of TMS systems, MacroPoint automates the entire process, eliminating the need for drivers to check in with dispatchers, and for shippers and brokers to check in with carriers. To date, nearly 300,000 drivers supporting thousands of brokers, shippers and trucking companies are MacroPoint enabled. To learn more about MacroPoint's go-to solution for third party shipment tracking, call 866-960-0328 or visit http://www.macropoint.com.
About Real Time Freight
Powered by Truckstop.com – Real Time Freight is a SaaS based TMS solution providing you with seamless automation throughout your supply chain while integrating truckstop.com data, freight, and capacity. This Integration affords you the intelligence to make data driven decision in increasing your capacity and freight. The Real Time Freight solution connects direct shippers on an internal level, and lets them share all of their time sensitive freight information with approved carriers and brokers. Through a simple internet connection, all parties — internal and external — involved in the freight transportation process are now connected in a secure, real-time, closed-loop environment. To learn more about automating your logistics call 800-720-7837 or visit http://www.realtimefreight.com
Media Contact:
Susan Fall
LaunchIt Public Relations
858-490-1050
susan(at)launchitpr(dot)com
Trent Broberg
Real Time Freight
602-325-5548
trentb(at)realtimefreight(dot)com